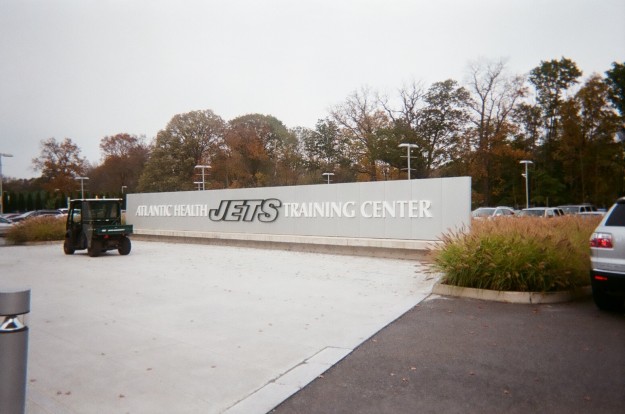 Recently, we wrote in Jets Confidential that it was time for the Jets's GM Mike Tannenbaum to come up with another first and second round bonanza like 2007, when he picked cornerback Darrelle Revis in Round One, and linebacker David Harris in Round Two.
The last few years, the Jets early drafting has been somewhat nondescript.
However, you get the sense, Tannenbaum and company might have finally struck gold again in first and second rounds.
Believe me, I know it's really, really early, and you it's tough to grade a draft for a couple of years.
But it looks like the Jets grabbed two steals in the first couple of rounds in DE Quinton Coples and WR Stephen Hill. They both looked good in the spring (before Hill tweaked his hamstring.)
If Coples didn't take some downs off early in his senior season, he would have been a top ten pick.
And I do buy the Richard Seymour analogy.
Coples is perfect for the 3-4 end position. Seymour was a dominant 3-4 end in New England for eight seasons, from 2001-2008.
Quinton is a sculpted 6-6, 284 with 4.71 speed.
But he's not just a guy with a great size-speed ratio – aside from a few plays he took off (which he'd love to get back now), the guy was a terrific player at North Carolina.
As a junior, he had 10 sacks.
We need to get the perception out of our heads that he's just a workout warrior. It doesn't stop there. He's a really good football player.
Remember Mo Wilkerson said Coples was the better player when they were at a prep school together before college.
And keep him mind, Coples is only 21 years old. He actually turns 22 on Friday.
His upside is huge, especially with Karl Dunbar and Rex Ryan coaching him up.
Dunbar was a very good hire by the Jets to oversee the defensive line. He did a good job as the Vikings D-Line coach. Few lines have been better in recent years.
He replaced Mark Carrier, who is back to doing something he's very good at, coaching defensive backs. He's now with the Bengals.
And Rex is a heck of a defensive line coach. It's what he was known for before becoming a coordinator, and now a head coach.
These two should do a great job molding this piece of clay.
This guy is way better prospect than your typical 16th pick of the first round.
Without the questions about his motor, we are talking about a Top Five-type prospect.
And Rex did a really smart thing telling the kid that if he was there at 16, the Jets would pick him.

(Premium will return by 9:30 pm on Wednesday night. Also, the current issue of Jets Confidential Magazine will be in the mail on Wednesday, and on newstands by the end of the week.)
---