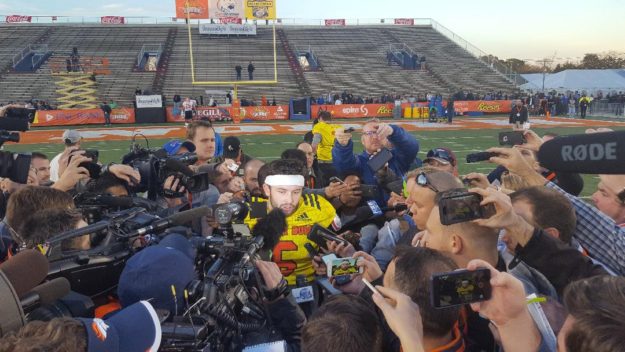 Here is a breakdown of the draft's top quarterbacks through the eyes of NFL Network draft guru Mike Mayock:
"It's really interesting because I think people were so anticipating this class that it surprises people when we start to kind of pick our way through them and really grind the tape.
"To put it in perspective, the two easiest quarterback evaluations I've had in the last eight or ten years are Andrew Luck and Carson Wentz, and that's because everything checked off both on the film and all the intangibles. Those two guys walked and talked like Drew Brees, Peyton Manning, Tom Brady, Russell Wilson, et cetera. I don't see anybody in this class that I get the same gut feel for as those two.
"(Sam) Darnold is my number one guy because I think he can beat you from both inside the pocket and outside the pocket, but after him, I feel like you can kind of pick apart different characteristics of each player.
"When I look at (Josh) Allen from Wyoming, biggest upside in the Draft, really exciting player, obviously has to learn how to be a little bit more accurate, and he's got to throw with timing and anticipation.
"Josh Rosen, the most natural thrower in the Draft, but he reminds me of Sam Bradford, both because they throw the ball naturally, but also the question about durability. Rosen's been hurt in college. He has an inability to protect himself in the pocket. He's a tough kid, but he gets hurt a lot. I don't know if he can survive in the NFL pocket for prolonged periods of time.
"(Baker) Mayfield, it seems to me like some teams love him and some teams just kind of go that's not my cup of tea. The film's good, but at the end of the day, you've got to make a decision in your building about who you want being the face of your franchise. And he's really cut both ways for a lot of teams.
"The guy I'm most excited about is Lamar Jackson. He's the most exciting athlete in the Draft. I think somebody in the first round is going to make a philosophical and schematic commitment to this kid and change what they do offensively. And it might not be this year where he makes a significant move, but I think long term, I can't wait to see what Lamar Jackson becomes."
---