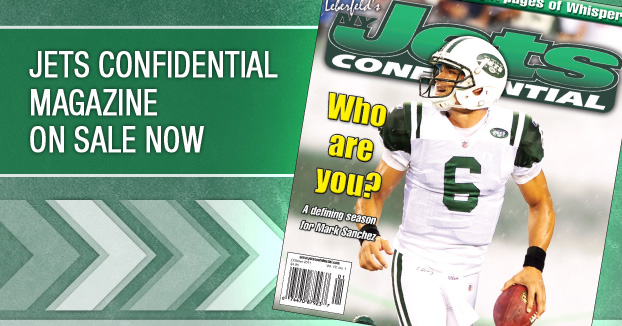 it's time for another dose of Dan's Website Whispers live from the Jets training facility in Florham Park. Wayne Hunter has something going on . . .
with his right knee – it was heavily wrapped in practice today . . .
David Harris sat out of practice today (at least the part we can watch), and Josh Mauga was starting.
If Harris misses the game, it's a big loss, but not as big as people might think, Mauga is very underrated, and might be better than Harris and Bart Scott in pass coverage . . .
The Jets had Joe McKnight playing corner on the scout team . . .
When Jack Del Rio was asked about his new starting quarterback, Luke McCown, he made a comment that might seem innocuous, but I don't think it is.
"He's big on preparation," Del Rio said. "He has a good grasp of what we are doing offensively."
So what am I reading into here?
A Jaguar source told NFL Network's Mike Lombardi, a few months ago, that one problem the organization had with former starting quarterback, David Gerrard, was he didn't work hard enough.
"They don't feel David Garrard has the eye of the tiger," Lombardi said. "They feel that when David Garrard leaves the facility that football is behind him, that he could care less about the game. They don't feel like David Garrard is committed to [excellence]. They think he's a good player and they like him. But they don't think he has that innate intangible that really drives and really wants to be a great pro." . . .
The Jets threw a lot to LT last week, and I get the feeling they are going to do it again this week.
With all the attention being paid to the Jets all-stars at wide receiver Santonio, Plaxico and Derrick Mason, LT is getting a lot of favorable matchups . . .
Another guy to keep an eye on this week is TE Jeff Cumberland. The Jets think this cat can be a huge weapon for them, and definitely want to get him more involved.
Cumberland catches linebackers by surprise the first time they attempt to cover him. They are like "wow, this big guy is fast." He's a big guy (6-4, 260), so they don't expect him to be as fast as he is – 4.4 speed . . .
The Jets are using Vlad Ducasse at right tackle a lot in practice. This should help him, focusing on one position . . .
The Jets had a defensive end in training camp a couple of years ago named Zach Potter, out of Nebraska.
He was cut in training camp?
What happened to him?
He's now the Jacksonville Jaguars backup tight end . . .
The Jets are going to use Antonio Cromartie at kick returner and a little on offense, but considering how inconsistent he is at corner, is it a good idea to take his focus away from his main job, and spread it around to three roles? We will see . . .
Maurice Jones-Drew presents a major challenge for Jets defensive end Ropati Pitiotua.
Pitiotua is 6-8, and Drew is 5-6. Ropati sometimes has trouble keep his pad level low and Drew is so low to the ground, and can be a nightmare for tall defensive linemen.

---