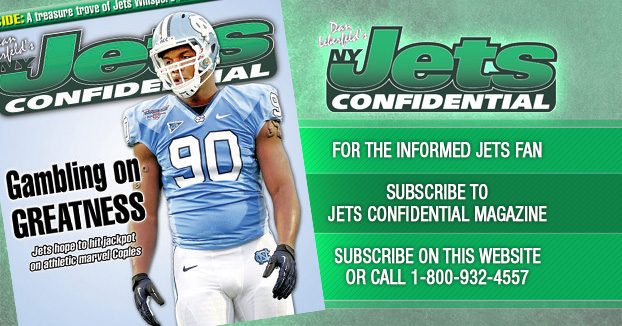 FLORHAM PARK, N.J. – The talk of Jets minicamp may have involved two quarterbacks whose names end in "Sanchez" and "Tebow" but the real talk of Tuesday should have been Jets first round pick Quinton Coples. Coming off the edge rush on tackle Ray Willis, Coples had a "sack" in the non-contact 11-on-11's and was very active in applying pressure throughout the day, even against the first team offensive line. At one point, Coples dropped back into coverage and nearly picked off a Mark Sanchez pass that was intended to go to Dustin Keller over the middle. Coples had to drop down for 10 pushups for the drop, but it was a tremendous play and read…On the other side of the defensive line, Muhammad Wilkerson was also impressive, several times using his length and hands to close down passing lanes during the quarterback's progression . . .
Perhaps the biggest play of the day on either side of the ball came from Darrelle Revis. On fourth down and four yards away from the end zone during the two-minute drill, Sanchez fired a stretch pass to Jeremy Kerley at the one-yard line. As the receiver turned, Revis was there and physically stood up the should-be touchdown scorer, displaying outstanding technique in keeping Kerley out of the end zone on what should have been six points . . .
With Brandon Moore out, away attending his daughter's graduation from nursery school, Matt Slauson slid in at right guard with Vlad Ducasse at left guard…Ducasse was constantly being coached up on Tuesday to play faster out of his stance and be immediately more physical . . .
With no Stephen Hill due to a hamstring injury, Patrick Turner had the chance to shine. Turner's footwork has definitely improved this offseason and he uses his size and strength well. Route-running was never a strength of the former USC wide receiver but Turner has clearly made strides with his stride . .
Tight end Jeff Cumberland remains a project. Two years ago at this time, Cumberland was turning heads with his performance at mini-camp. In college at Illinois, he was constantly swapped between tight end and wide receiver, never finding a home or truly honing his skills. Injuries cut short last season but his blocking has improved this offseason and he's looking far more confident physically…Speaking of tight ends blocking, former rugby player Hayden Smith earned praise from offensive coordinator Tony Sparano several times for his blocking. It is clear that the Australian has improved his technique and is learning how to use his leverage . . .
DaMarcus Ganaway missed the end of OTAs last Thursday with a hip injury but is back and he told Jets Confidential "I'm feeling a lot better." . . .
The reports that Sparano is a vocal and hands-on coordinator is true, but that says nothing about offensive line coach Dave DeGuglielmo, who is as vocal as they come. Like Sparano, DeGuglielmo never stops moving and yelling out instruction, demanding perfection. Even the veterans receive an earful from time to time . . .
During the final session of OTAs last week, we raved about former UMass running back John Griffin. Once again, he showed outstanding hands and has very quick feet – he might just stick with the practice squad . . .
T.J. Conley clearly has the leg up – pun intended – in the punting duties over Travis Baltz. Both in terms of direction and angling his punts Conley is clearly superior . . .
Antonio Cromartie, Dexter Jackson, Jeremy Kerley and Kyle Wilson also rotated punt return duties…Joe McKnight and Eron Riley got work on special teams as the downfield gunners.
There was some good edge rushes, noticeably from Donovan Robinson and Garrett McIntyre . . .
…Noticed that Austin Howard struggled at times with speed rushes but physically he was tremendous and rarely looked overmatched…Rookie Terrance Ganaway looks like a potential find as he hits the hole hard and his legs are always churning. Looks like a nifty short yardage back and he's been more impressive so far than last year's draft pick Bilal Powell . . .
Shonn Greene, who had a bad drop last week in OTAs, stayed after and caught balls . . .
Nose tackle Kenrick Ellis looks a bit faster and that's due to some weight loss. Ellis is down seven pounds to 338 pounds and he said that the conditioning staff told him his body fat is down a couple of percentage points. He said that he always used to be in the "red zone" scale the staff uses but is now in the "yellow zone" and that he's continuing to make progress. "It's just like a traffic light with red, yellow and green – green being the best." Ellis said of the different zones. He attributes his progress to an offseason where he trained with his teammates at TEST Sports Clubs in Martinsville. Last year, he said Bart Scott asked him to join him there "But it was just a few weeks before training camp" and he's now benefitted from a full offseason of workouts.
Kristian R. Dyer is the Jets beat reporter for the newspaper Metro New York. Follow Dyer on Twitter @KristianRDyer
---