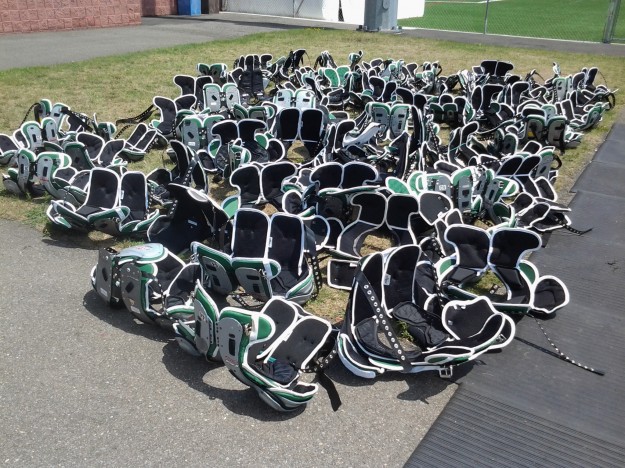 Cortland – After Saturday's downpour, Mother Nature cooperated with the Jets on Sunday. The weather was spectacular this morning at Jets practice. Here are some notes and observations from SUNY-Cortland
Rookie OLB Brett Roy has a left calf injury, but can't afford to sit out, so he's fighting through it.
In the middle of the pass rush drill, he had a trainer rubbing something like Ben Gay on it.
Then later in practice, some kind of medical sleeve was put on it.
He knows he can't sit out.
If he did sit out a practice or two, Mike Tannenbaum would probably send him packing with an injury settlement . . .
Santonio Holmes had a drop early in practice.
Later in practice, Mark Sanchez threw a pass down the left sideline to Holmes and it was almost picked. This play was reminiscent of last year. Holmes was not open. It was a force. Kyle Wilson was tight in coverage, but it was thrown to him anyway.
Here is the issue. If this was Stephen Hill or Patrick Turner, they can win a jump ball on this play, but not the 5-11 Holmes. That's not his game. He's not a big, physical receiver. The perfect play for him is the quick slant (he had a nice one in this practice), where he can get the ball with a little space, and take off running . . .
Tarren Lloyd is a terrific blocker. He tossed Marcus Dixon to the ground early in practice . . .
Dave DeGugliemo wants Vlad Ducasse to move his feet more . . .
Dustin Keller had a square out on the right sideline that went through his hands. He needs to catch this, but it was one of those plays that would have gone nowhere. Ellis Lankster was right there, and it likely would have gone for no gain. It didn't make a lot oof sense.
It's one of those plays that has Pix Six written all over it . . .
I get the sense that Guge really likes Austin Howard. He praised him a lot today in practice . . .
Aaron Maybin had a couple of nice plays in run support today. He went over the line on both plays, tackling the runner (there is no tackling allowed in practice.) It was almost like he was making a statement – "I can be an every down linebacker, not just a pass rushing specialist."
But then there was also a reminder in practice as to why he probably can't be right now. He got tossed to the ground like a rag doll by D'Brickashaw Ferguson. It's not a lack of effort or toughness, but he just isn't built in a stout fashion . . .
Jeff Cumberland pancaked Nick Bellore on a nice run by Joe McKnight. There is no question Cumberland can be the blocker the Jets want him to be, he just need to be more consistent . . .
Quinton Coples lined up on the wrong side on one play, and the coaches yelled for him to switch sides right before the snap.
I think the guy is going to be outstanding, but his head is spinning right now . . .
Greg McElroy and Scotty McKnight connected on an impressive play down the left sideline. McElroy threw him open, about 15-20 yards down the field.
But shortly thereafter, McElroy had a throw that would play into the criticism of his arm strength, coming out of Alabama.
He was throwing deep to McKnight down the right side, and he floated the football, and it was knocked away by a defender . . .
Mike Westhoff had a long talk with kicker Josh Brown after practice.
Brown isn't camp fodder to give Nick Folk a rest at times, this is a legitimate competition that could go either way . . .
Right now, at the nose tackle spot, Damon Harrison looks better than Kenrick Ellis. Harrison is consistently in the offensive backfield. Perhaps Ellis needs to lose more weight (he's 345 right now). He's lumbering out there, not showing a lot of quickness . . .
July 29, 2012
(Premium will return on Monday by 3 pm.)
---