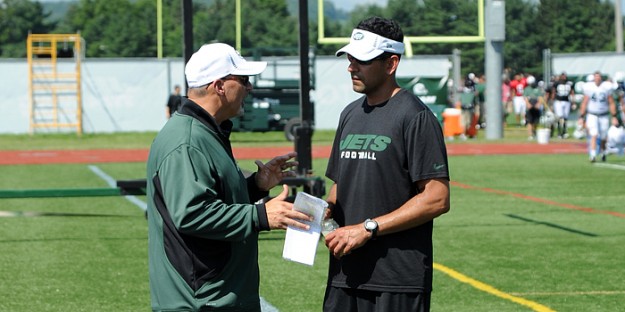 You ever wonder what Tony Sparano REALLY thinks of the Jets' quarterback situation?
We all know how committed Woody Johnson, Mike Tannenbaum and Rex Ryan are to Mark Sanchez.
And obviuosly Sparano needs to go a long with their wishes.
But I wonder if you made him take truth serum, perhaps he'd say he'd like to go with Greg McElroy.
Remember, he called McElroy a "genius" in the spring because of how fast he picked up the system.
While McElroy might not have a rocket arm, he seems to read defenses better than the team's other three quarterbacks.
And considering the Jets are going to be a run-based offense, with a conservative passing attack (with occasional shots downfield), with some wildcat mixed in, that seems like an ideal set-up for the cerebral Alabama-graduate.
I know there is no way McElroy is going to see the field barring injuries. That isn't going to happen.
But I also have no idea what Tony is truly thinking.
---