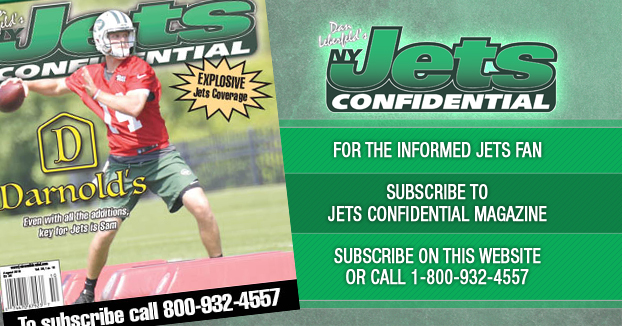 *Gase: 14 (Sam Darnold) has mononucleosis and will be out for this game, so Trevor (Siemian) will be starting and Luke Falk will get elevated at some point to the backup.
Q)When did you find out about Sam Darnold?
Gase: Last night about 10:15 p.m.
Q)Will Darnold be out for multiple weeks?
Gase: Looks like it. Good thing we have the early Bye Week.
Q)Are you certain that Darnold will be out multiple weeks?
Gase: He's still going through some of these tests to see where he is at with all this. I know he is out this week and then past that I'll have more information as we go.
Q)Have you physically seen Darnold since he found out he had mono?
Gase: Yeah, we went over and told him last night. Dowell (Loggains), myself and Dave (Zuffelato). He (Darnold) didn't know and we went over and told him in person.
Q)How did Darnold take the news?
Gase: Not well.
Q)Did you tell Darnold the diagnosis in person?
Gase: Yeah.
Q)Did Darnold think he had strep throat?
Gase: All three of us (Gase, Loggains and Zuffelato) went over there and he knew something was up when Dowell (Loggains) and myself showed up. I just wanted to make sure it was delivered right and I figured I could be the bearer of bad news on this one.
Q)Darnold won't be back until the Philadelphia Eagles' game?
Gase: I don't want to put predictions on anything, I am just glad we have the Bye Week when we do.
Q)What is the course of treatment for Darnold?
Gase: Rest. They are still going through and making sure, they are doing all of these tests on him and things like that and figuring out the best protocol. I know his biggest concern is weight loss, he's already lost (weight). That was something that was alarming to him, that he lost some weight already in the last couple days. Right away, he (Darnold) went into, "I have to make sure I am getting meals," because he can't be in the building right now. "I need to get meals over here, I need to make sure I am getting enough of what I need to keep my weight." He went right into, "Alright, how do I maintain."
Q)How concerned he is with the weight loss and fatigue that can be associated with mono?
Gase: The way that he reacted last night to it, he went right into, "Alright, where's my solutions." He moved past the bad news and went into, "Alright, how am I going to get myself ready for when I am able to return, to where I'm not in a bad place."
Q)How much weight has Darnold has lost?
Gase: It is not crazy. He's on it with what he should weigh, how he feels, all those things. We are talking like five pounds or something. Nothing crazy.
Q)Did you notice anything about Darnold on Sunday?
Gase: No, I didn't.
Q)Did you notice anything unusual on Wednesday about Darnold?
Gase: He didn't look good yesterday.
Q)Did Darnold seem fine on Monday?
Gase: Yeah, I am not a doctor, but he seemed like it.
Q)Is there fear that mono could spread in the building?
Gase: I hope not.
*Press Conference
**************************************************************
To subscribe to Jets Confidential Magazine click below, or call 1-800-932-4557 (M-F, 9-5).
---