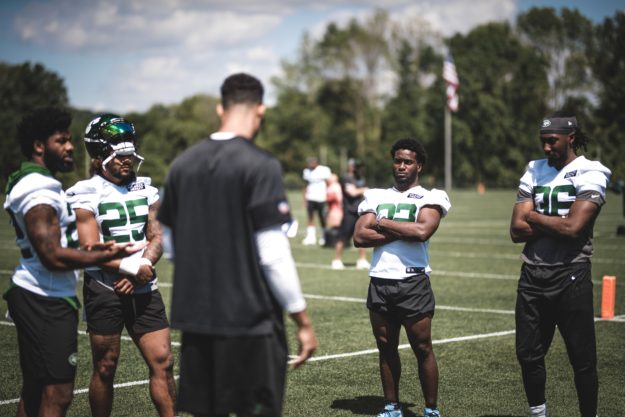 Some teams have cut back on CBA-approved spring work due to pressure. Will the Jets?
"No," said Jets coach Robert Saleh on Thursday.
A couple of teams, like the Indianapolis Colts and Philadelphia Eagles, have cancelled their mandatory minicamps to assuage some veteran players. Saleh has no intention of doing that.
"The plan is to go as scheduled," said Saleh about the Jets' minicamp, scheduled for June 15-17.
Saleh feels he's had productive talks with veteran players on this hot-button issue.
"We have been in constant communication with the veteran leadership here and our player (union) rep," Saleh said. "We are already cognizant of our players and what they need to get themselves prepared, so there has always been communication, and the same time, they also want to work. It's been a good collaboration on both sides."
Attendance for the Jets' off-season program has been "great" according to Saleh.
"We are well over 80 (players)," Saleh said. "It's been fantastic. Guys who are here are working. They want to be here. "
With a new coaching staff in town, Jets players have a lot of work to do, so every rep they can get is important.
"Guys understand, they want to put in the work," Saleh said. "That is a long time to go without football. At least here, these guy have the right mindset. We've had great collaboration between the coaching staff and player representatives, and everything up to date has been very productive."
The Jets have had four OTA practices so far, and the following dates to come:
OTA 4 – June 1
OTA 5 – June 3
OTA 6 – June 4
OTA 7 – June 7
OTA 8 – June 8
OTA 9 – June 10
OTA 10 – June 11
And then the mandatory minicamp.
With a new staff, installing new playbooks on offense and defense, the Jets' players know they have a lot of work to do, and this CBA-approved spring work is extremely valuable to them.
*****************************************************************
To subscribe to the monthly Jets Confidential Magazine, loaded with Jets Whispers you won't read anywhere else, click below, or call 1-800-932-4557 (M-F, 12-4). A JC subscription makes a great birthday gift for a Jets fan!
*****************************************************************
*Photo courtesy of the New York Jets.
---