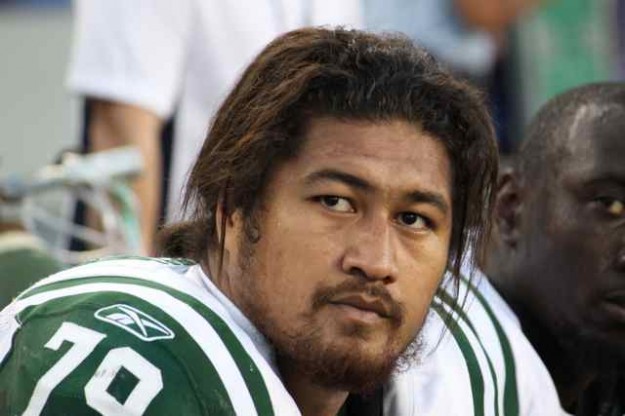 The Jets run defense was so-so against Washington. Rookie tailback Roy Helu rushed for 100 yards. For some reason Rex Ryan started Kenrick Ellis for an injured Mike DeVito, which made little sense. Ellis is a nose tackle, not an end, and isn't ready to start at any position right now, to be honest. He should be very, very good in time, but right now he's as raw as molasses.
Let's take a look at the D-Line . .
The Redskins first offensive play of the game was a 15-yard run by Helu to the right side. On this play, Mo Wilkerson was pancaked by right guard Chris Chester, and Sione Pouha couldn't get off a block by center Will Montgomery, and Helu ran by them.
On the Redskins third offensive play of the game, Wilkerson missed a tackle on a screen to Helu on the left side that gained eight yards.
On the play before a Helu TD run that wrapped up the first drive, Pouha had a QB pressure up the middle, and Rex Grossman was forced to throw the ball out of the end zone.
On the two-yard TD run off left tackle, Ropati Pitiotua missed a tackle.
On the Redskins second possession, they drove for a field goal.
On the first play of this possession, Pitiotua and Pouha combined to stop Helu on the line.
Two plays later, Helu ran to the right side for a gain of 22. Neither Ellis or OLB Garret McIntyre could get off blocks, and Helu ran right between the two of them, and was off to the races.
On the next play, a run off left tackle, Wilkerson stopped Helu for no gain. Three plays later, the Redskins setted for a 33-yard Graham Gano field goal.
After these two drives, the Jets made some adjustments, settled down, and played much better on defense.
On the first play of a late second quarter possession, Marcus Dixon blew up a Helu run off right tackle in the backfield, allowing Calvin Pace to make a tackle for no gain. Dixon also had a big play late in the third quarter, forcing a Helu fumble that Eric Smith recovered. On the Redskins next possession, Dixon blew up a Helu run on the line, and he and Ropati ended up stopping the runner after just a gain of one.
The Redskins got the ball back one more time in the second quarter after Jeremy Kerley muffed a punt. On the first play after this Redskins fumble recovery, Sione Pouha blocked a pass intended for WR David Anderson over the middle.
Two plays of note by defensive linemen in the fourth quarter – Pouha stopped Helu for no gain early in the quarter, and Wilkerson blocked a pass late in the game. Wilkerson realized he wasn't going to get to Grossman, so he showed good instincts, backing off the blocker, and jumping to block the pass.
It seemed like the Jets needed some time to get used to Helu. It's hard to get a strong feel for him on tape. He's a 220-runner who runs under 4.4, and runs as hard as any tailback in the league. You have to experience him to get a feel how to tackle him. The Jets got off to a rough start, but settled down and did a better job as the game progressed.
We will have a look at the linebackers by 9 pm tonight. Enjoy your day.
---