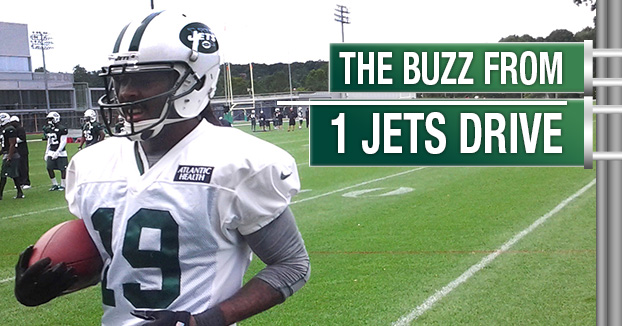 Geno Smith spoke to OCNN. Let's take a close look at what he said, and what it means in the big picture . . .
Smith was asked about not attending Jets West, and if that is illustrative of a poor relationship with Mark Sanchez, who hosted the camp.
"Me and Mark are cool," Smith said. "There's no hard feelings or anything. He's up there getting some work with the guys, I'm down here getting work, some guys are going to be down here today. It's just been good."
I agree with there being "no hard feelings." Actually, in his heart of hearts, Mark was probably happy Geno didn't go to Jets West.
Why would you want to train with a guy trying to take your job (away from team activities)? You wouldn't.
But I will say this, while I don't think Sanchez gets a ton out of Jets West because there is no defense, he got more out of it, than Geno did at Jets South Florida.
Sanchez was working on the Jets' playbook at Jets West with 12 teammates, including Kellen Winslow, Jeremy Kerley and Chris Ivory.
Geno was in South Florida working out with players who don't play for the Jets, and are on teams with different playbooks, like wide receivers Tavon Austin and Steadman Bailey from the St. Louis Rams (former West Virginia teammates) and wide receiver Antonio Brown of the Pittsburgh Steelers.
Honestly, playing catch with guys on other teams, what is he going to get out of that? Not much.
So while I'm not huge on Jets West because Sanchez is throwing against air, and his biggest problem is reading defenses, I do think Mark got a lot more out of that, than Geno did in his workouts in South Florida.
What did Geno think of the media's focus on him not attending Mark's camp?
"They got to create a hot story," Smith said. "They got to keep the fans interested, so they're going to put whatever they want out there."
Bingo. I agree with him 100 percent. It was a created story.
But he better get used to it, creating news is commonplace in today's media, especially in the New York market.
Geno, you ain't seen nothing yet.
How are things going so far with Jay-Z as Smith's agent?
He said Jay-Z's agency has a "family environment."
And added . . .
"I was always told if they're not talking about you, then you're not doing anything. Everything is all positive for me, so I'm looking forward to the future."
To me, that is a strange quote.
Yes, if you are doing great things people will talk about you a lot, like Baltimore Orioles slugger Chris Davis, who has an American League record-tying total of 37 home runs at the All-Star break.
But you know what Geno, they are also talking a lot about Aaron Hernandez, and he is accused of three murders.
I'm not saying Geno would ever do the latter. That is crazy, but what I'm saying is his theory cuts both ways.
I still think Geno is putting the cart before the horse with the Jay-Z marketing thing.
There is no question Jay-Z can create great off-the-field opportunities for Geno from a business standpoint.
And as Geno said on OCNN, Jay has already opened "many different opportunities" for him.
That is great, but should that be his focus right now, or should it be 100 percent on becoming a viable NFL quarterback?
I'm telling you, a lot of coaches would be very uncomfortable with Smith diving into the Jay-Z marketing machine with so much work to do, some much to proof on the field.
I thought David Garrard put it best when he gave Geno this advice – "Don't try to be the celebrity guy.  Don't try to be all that.  Just go out there and be a football player and that will get you all those things in the end."
It sounds like Geno is going to get that stuff now, not at the end.
Look, I'm not saying a guy should leave marketing money on the table, but you just have to wonder where Geno's head is at right now.
I'm just telling you the Belichick's, Parcells', Cowher's of world wouldn't be happy with a second round rookie talking so much about marketing opportunities.
[/private]
June 16, 2013
Premium will return by 9:30 pm on Wednesday.
---