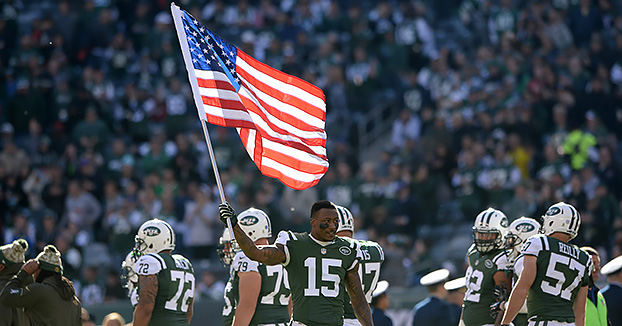 Baltimore Ravens tight end Ben Watson is out for the season with a torn achilles tendon. Watson is one of the NFL's smartest players. Here are his thoughts on standing for the National Anthem . . .
"I will not have the option to kneel this Sunday while the National Anthem is being played. A week ago, in what would prove to be my last pre-game opportunity of this 2016 season, I stood with my right hand over my heart as the anthem played. And if I am fortunate enough to ever be dressed for another game day I imagine I would be doing the same thing I did in my last. Standing. Not because America is ALL I desire it to be because most assuredly it is not. Racism still stews, families are fractured, the unborn are trashed, schools are struggling, religious freedom is increasingly under attack, violence pollutes our cities and our suburbs, and there is a growing divide between law enforcement and the community.
"I stand, however, because I grew up in NAVY town USA and traveled overseas to support members of our armed forces who follow orders regardless of their personal sentiments. I stand for those who were forced to give their lives building the country that confined them to the tobacco fields and indigo plantations. I stand because as a child, I saw my father stand. A man who lived the tumultuous transition from "separate but equal" to the times surrounding the Civil Rights Act when angry people who held signs at his new school viscously screamed "NIGGER GO HOME!" I stand because on the contrary, no one held such a sign when I walked into my grade school.
"Before competition, as I stand in shoulder pads and cleats, my helmet in my left hand, adrenaline flowing and my heart raging under my right, I never forget the ills of America but for a moment I envision its potential, remember its prosperity and give thanks to God for the land He has placed me in and the people I love who live in it.
"I stand, because this mixed bag of evil and good is MY home. And because it's MY home my standing is a pledge to continue the fight against all injustice and preserve the greatest attributes of the country, including Colin Kaepernick's right to kneel."
---