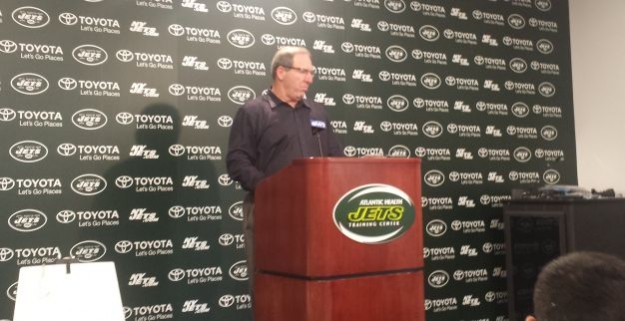 Florham Park – The Jets have not returned a kick for a touchdown since 2012.
Bobby April, the team's new special teams coordinator, is looking to reverse that trend.
So who is going to handle the job?
Chris Owusu and Walter Powell have been rotating as the Jets' first-team kick returner this offseason.
"They've done real well. Of course there's no live bullets on this field," April said. "They've been flying up in there. They've both got pretty good speed. Chris, I base most of it off of – he hasn't had many opportunities, but he had a really good game doing it.
"I think Walt is a good returner. I think he did a pretty good job. He had a couple gaffes that a lot of rookies have. . .Most rookies struggle to some extent and he had his struggles. But I think he's really good."
April also mentioned wide receiver T.J. Graham as an option as a returner.
"I think T.J. Graham is a really good kick returner. He flies and he's really tough," April said. "I thought he was a very good player last year. He's exceptionally good at coverage. He didn't return much, but out here, he's a real fine athlete."
Graham was also a gunner on the punt team last season and recovered three fumbles on special teams.
---