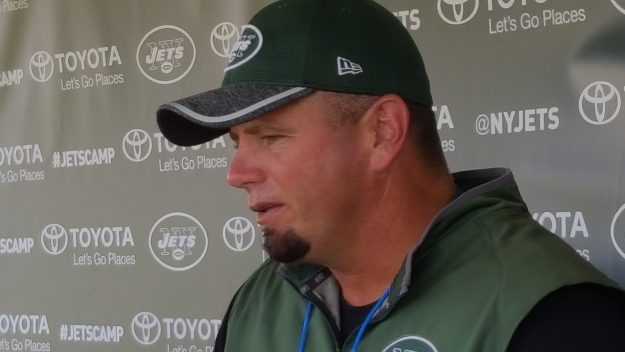 Florham Park – The Jets' special teams were substandard last year.
And it cost special teams coach Bobby April his job.
But the problems weren't all April's fault.
Part of the issue was not having the right personnel, with the Jets' punt coverage unit being a perfect example.
I'm not going to name names, but it wasn't a good mix.
Jets coach Todd Bowles hired Brant Boyer to replace April. Personally, I think Bowles hit this hire out of the park. Boyer is smart, tough and organized.
And he knows what it takes to be successful on punt and kick coverage, because he was a heck of a punt/kick cover guy during his playing days.
When it comes to the final cuts, Bowles and Jets GM Mike Maccagnan need to listen to Boyer on who he likes and doesn't like.
You get the sense he didn't like some of the guys he inherited. He didn't tell me that, but watching practice, that is the sense I get.
If he pounds the table for guys like Julian Stanford, Bruce Carter and Josh Martin, they need to listen to him. He knows from whence he speaks.
Because the problems last year weren't just schematic, but personnel-related.
*****To subscribe to Jets Confidential Magazine, click below. Get it, you won't regret it.
---