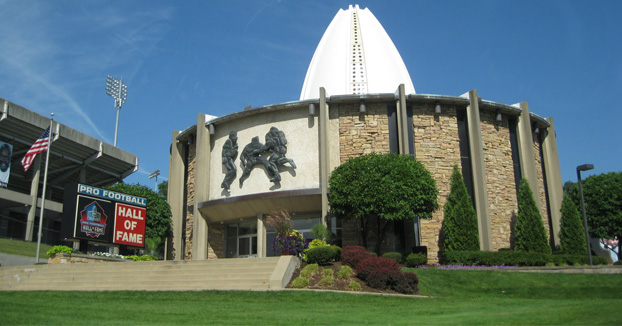 In the world of sports, there isn't just one blueprint on how to motivate players.
But when it comes to young players, especially rookies, some coaches don't think it's a good idea to heap too much praise on them before they accomplish anything.
Whenever a reporter would praise a rookie, Bill Parcells would shoot back, "Don't put him in Canton just yet."
Bill Belichick, from the Parcells' coaching tree, doesn't even want rookies talking to the media. He treats them like plebs – who should be seen, not heard.
But Rex Ryan has a totally different world view than these guys.
Ever since the Jets drafted Quinton Coples, Stephen Hill and DeMario Davis, Rex has been "putting them in Canton," so to speak.
He anointed Coples and Hill starters, right after drafting them. This seemed a little premature, and an example of Rex's machismo, when it comes to players he and Mike Tannenbaum pick high in the draft.
Don't get me wrong, I think Coples and Hill are both superb prospects, but let's take a step back for a second.
First of all, Coples is making the difficult transition to 3-4 end, after playing in a 4-3 (end and tackle) at North Carolina. While he has the ideal size and makeup for the position, this is a big adjustment, and requires him to change some of his technique. Why not see if he can do it before giving him a starting job?
And the other issue here is how insulting this is to Mike DeVito, the current starter. DeVito has been a terrific player for the Jets, ever since he arrived as an undrafted free agent out of Maine. He might not be the greatest athlete, but he's a powerhouse, who is technically sound, and rarely makes mental errors.
Of course Coples has a much bigger upside than DeVito, but Mike deserves better than the coach giving his position away, without a fight, to a player who has never played 3-4 end before.
DeVito is the quintessential pro – doing whatever ever team needs, on and off the field. And perhaps a team with locker room issues shouldn't treat one of their rock solid citizens and statesmen this way.
After least, let them slug it out, and may the best man win. Of course Coples is going to replace DeVito eventually, but why not handle the transition with a little more grace.
And after the draft, Rex also said Hill will start, the same Hill who had 49 career receptions in Georgia Tech's triple-option rushing-based offense. I think Hill has star potential, but he has a lot of work to do on route-running, after getting so little work in college.
Why not let Patrick Turner start until Hill is truly ready? Hey it could be two or three weeks into the sooner, maybe sooner, but why not give him time? Don't you think having such a raw receiver start immediately might be jumping the gun?
And remember, if DeVito and Turner started in Week One, Coples and Hill would still play a ton. I'm not saying don't play them.
(We will have Part II of our analysis of Rex's approach with high draft picks on Monday night, by 9:30 pm).
---