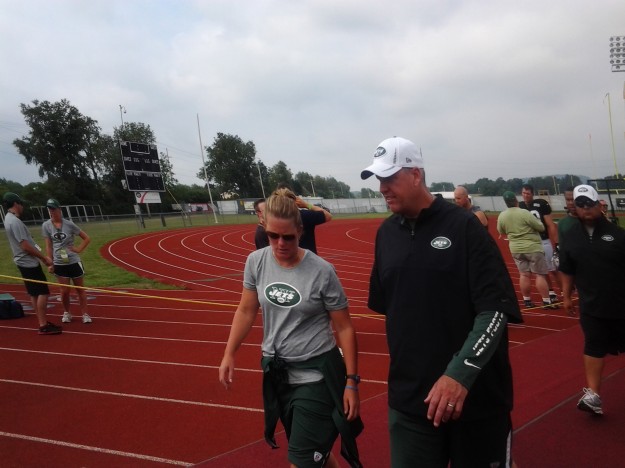 Aaron Maybin had a strong scrimmage in Cortland on Saturday night. Here are some of his thoughts following the sold-out event –
"I think that overall we did some good things, but there are also some things we need to get corrected, some big plays we gave up. There were positives and negatives that you can take from it.
"For the entire time up until this point you really are in these practice situations. So to get a chance to get into this game setting, you have some fans out there who are energizing us a little bit. You're also putting yourself in a situation that you are going to see in a preseason game which is helpful.
"Facing Tim Tebow is] good for us because it's not often you get to have a look at a quarterback who's as mobile as he is. We are going to play against some mobile quarterbacks, for example week one, we have (Ryan) Fitzpatrick and he's not a guy who likes to sit still. He likes to move around a little bit. So from that stand point it's good for us to get that look in practice-like situations.
"Me and Rex were talking a couple days ago. Me and that slow-down button (because he has to slow up around the quarterback in practice) don't get along too well, but I'm learning. I tell him every day I can change. (laughter). It's a slow process, but I think at the end of the day we're excited to be out here flying around, moving around, and having the chance to be in those live situations. You try to pull up as much as possible, but at the end of the day, you try to make sure no one gets hurt."
---