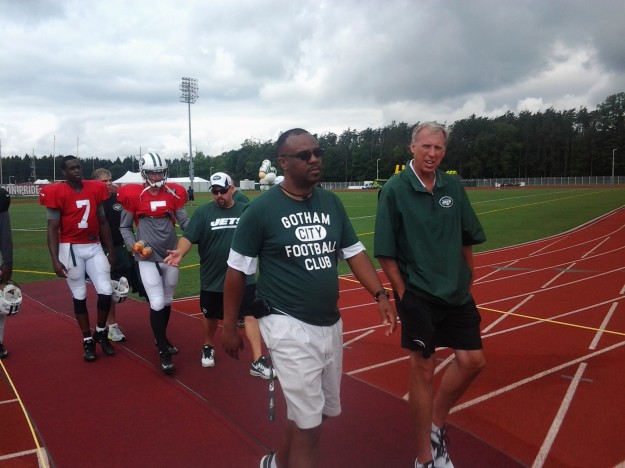 Cortland – If the national NFL Insiders think they are going to get through to Jets GM John Idzik, I think they have another thing coming . . .
I've seen a few national NFL writers come into town, and saw them each talking to John Idzik (pictured above with Jets PR guy Bruce Speight) after practice.
They probably think they can cultivate him as one of the sources.
I saw two guys really working him the last couple of days. I don't think they will break him.
That isn't who he is.
Based on what I'm hearing and observing, they are out of luck.
First of all, Idzik has done a good job of shutting down the organizational leaks that plagued the team the last two year, so why would he become one himself?
I just don't think he cares about hooking up the media.
He's frustrated the local media because he won't help them (and that is fine – he's here to turn around the Jets' football operation, not cater to the media), and I think he will frustrate the national guys also . . .
On Monday, West Virginia coach Dana Holgorsen said. "(Leadership) was a big issue on last year's team, and I mean issue in a bad way," Holgorsen said. "We have lessons we could take from 2012, but I'm not going to go into detail on that. There were lessons on things that happened with a variety of people — a variety of people. We've talked a lot about that with our group."
Now today, Holgorsen, through his friend Bruce Feldman of CBS Sports, tells us he wasn't talking about Geno Smith.
"Geno was one of the only real leaders we had on the team in 2012." Holgorson told Feldman. "People in media are trying to read between the lines or add two plus two and they're wrong,"
I think Holgorson is being disingenuous. He knew darn well when he made his initial statement on Monday, and he didn't name names, the media was going to assume he was talking about Smith.
After all, when we think of leaders on a football team, we generally start with the quarterback.
So I'm not buying the bull he's selling today through his friend Feldman.
If he didn't want to create a firestorm on Monday, he should have come out and said, "I'm not talking about Geno Smith."
Time will tell if Geno Smith is a good leader with the Jets. The proof will be in the pudding.
But I do think Holgorson was referring to Smith (and others) when he made that statement on Monday . . .
I don't know exactly what is wrong with Greg McElroy, but not only did I see a medical sleeve on his lower left leg, but a brace on his left knee.
Rex Ryan said McElroy suffered a left ankle injury against Detroit. But did he hurt his knee also? Based on the brace I saw today, that is possible . . .
Another strong practice for UConn ILB Danny Lansanah. My gut is he makes the team as the fourth ILB . . .
Robert Malone sat out today's practice with a back injury, and Ryan Quigley continued to put on a punting clinic.
I thought Malone was a lock to retain his job, and now I'm not so sure . . .
August 13, 2013
Premium will return by 9:30 pm on Wednesday
---