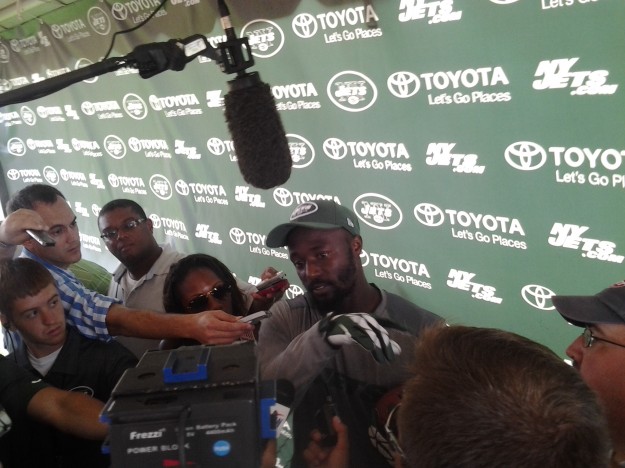 Cortland – A variety of premium notes today from Jets practice in SUNY-Cortland. Don't miss out. Sign up now. Here we go . . .
Geno Smith was limping all over the practice field today.
You have to give him credit for sucking it up on a bad wheel, and practicing . . .
Speaking of a bad wheel, Greg McElroy tweaked his ankle injury rolling to his right.
He had injured the ankle originally in the Jets-Lions preseason game.
Walking off the practice field, he seemed very down . . .
Stephen Hill seemed to tweak his groin injury today, but never came out of practice . . .
WR Titus Young returned to practice today. He had missed some time with hamstring injury.
He has tremendous speed . . .
After covering a deep pass to WR Ryan Spadola (that was unsuccessful), Dee Milliner hobbled off the field. It didn't seem serious, but there is something bothering him in one of his legs . . .
Rex Ryan on DeMario Davis – "Now let's make sure everybody knows that draft when they say he's a bust. Really, ok we'll see if he's a bust."
I have to be honest, I have no idea why he keeps saying this.
I've never seen anybody say Davis was going to be a bust.
This seems like a made up angle . . .
Watching Kellen Winslow block today, he was better than I thought he was. He blocked with violence . . .
Speaking of blocking, FB Tommy Bohanon did a very nice job as a lead blocker today, and with Lex Hilliard (ribs) sidelined, he seems to forging ahead in this competition . . .
Watching RB Chris Ivory today for the first time in a while, you could see why the Jets signed him – he's big, physical and explosive . . .
CB Isaiah Trufant is having a great camp.
He had another pick today, on a Smith pass over the middle.
This guy is such a valuable player in so many ways . . .
We need to see more of Smith in preseason games to get a better feel for whether he's ready. Once again, in practice today, where there is no tackling or sacks, there were several pass plays, that went way beyond the realistic time limit of a typical pass play . . .
Santonio Holmes addressed the media today (pictured above), and based on what he was saying, he's got a long way to go before he returns.
You have to wonder if this is going to turn into a Derrick Rose-situation.
The Chicago Bulls point guard, kept pushing back his return from a knee injury, over and over again, repeatedly saying "it's still not right." He pushed it so far, the season ended.
I'm not saying Holmes is "milking the injury" as one published report speculated, but you have to wonder what his motivation would be to come back this season.
He is making around $7.5 million this year, whether he plays or not. He already has a Super Bowl Ring.
So he already has the ring and big money, two things so many players hunger for. And he's a small player – so why would he rush back, or come back at all this year, to take a pounding.
Look, I'm not applauding this mindset, if it's indeed the case, I'm just saying it's a possibility . . .
LB Danny Lansanah had a big hit on new RB Kahlil Bell in his first practice. That will certainly help Bell expedite the process of getting in football shape . . .
August 12, 2013
Premium will return by 7 pm on Tuesday.
---