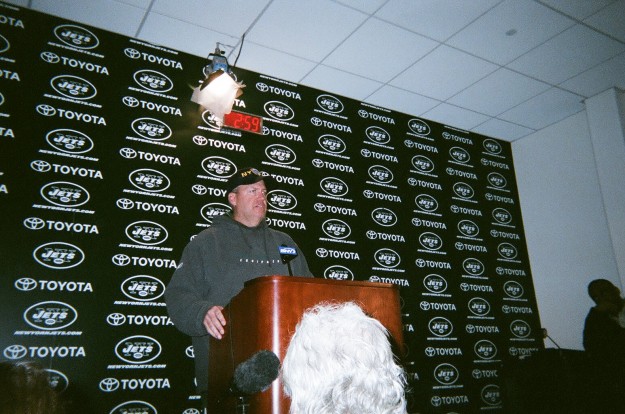 While in the midst of the 2012 NFL combine, let's get into a another edition of Dan's Jets Notebook.
One question that has become somewhat cliché at the scouting combine is when reporters asked 4-3 college ends, who might be asked to switch to 3-4 outside linebacker in the NFL, which defense they prefer.
They never give you a true honest answer, or at least I can't remember one.
99.9 percent of the time they give the answer South Carolina DE Melvin Ingram gave at the combine.
"I'm equally suited for the 4-3 or the 3-4," said Ingram.
What do you expect them to say?
They don't want to hurt their draft prospects. The league is almost split 50-50 between 3-4 and 4-3 teams.
The big challenge for guys like Ingram, is learning how to play in space, something 3-4 outside linebackers need to do.
Vernon Gholston had a tough time with the transition from 4-3 end to 3-4 outside linebacker.
Ingram is a very good athlete, so he should be able to do it.
Ingram might be there when the Jets pick at 16, and could be perfect for them.
He could really help their pass rush . . .
Another possibility for the Jets at 16 is Alabama running back Trent Richardson. Shonn Greene is a good player, but Richardson is more explosive – a better all-around back.
Richardson is a rock solid 225-pounds, and has good balance and vision. He was a major reason why Alabama won the national championship this past college season.
Another player running back who could pique the Jets interest at 16 is Virginia Tech's David Wilson, the ACC Player of the Year . . .
As we mentioned in the last Jets Draft Notebook, Mike Tannenbaum likes to add a quarterback every year in the draft. It's something he learned from Ron Wolf, the former long-time Green Bay GM.
It's unlikely the Jets will make the pick high in this draft, so we are focused on later round values. A guy who fits into that category is Northern Illinois signal-caller Chandler Harnish.
The guy is a winner who set 17 school records. He's a clutch player who led UNI to an amazing late game comeback win against Ball State this past season.
One wrap on him are his small hands, but keep an eye on the underrated Harnish who could turn into a steal in this draft . . .
If the Jets don't go for a safety in the first round like Alabama's Mark Barron, a middle-round possibility could be Miami's Ray-Ray Armstrong.
The Sanford, FL-native was very highly regarded after his junior year at "The U," but had an average season in 2011, and this could make him slip to the middle rounds.
Ray-Ray didn't transition well to the defensive system new Hurricane coach Al Golden installed during the 2011 season.
As we all know the Jets need to do a better job of covering tight ends, and the 6-4, 215-pound Armstrong certainly has the size and speed to deal with the Rob Gronkowski's of the world . . .
(Editor's note – a reader pointed out to us that Ray-Ray Armstrong decided to go back to Miami for his senior year. So this last note is now a moot point. Sorry about that. We will get a lot more into safeties over the next two months, but two middle round safeties, with good size, who could be possibilities for the Jets are Notre Dame's Harrison Smith and Auburn's Neiko Thorpe, a pair of 6-2 players.)
(Premium will return by 8 pm on Monday.)
---