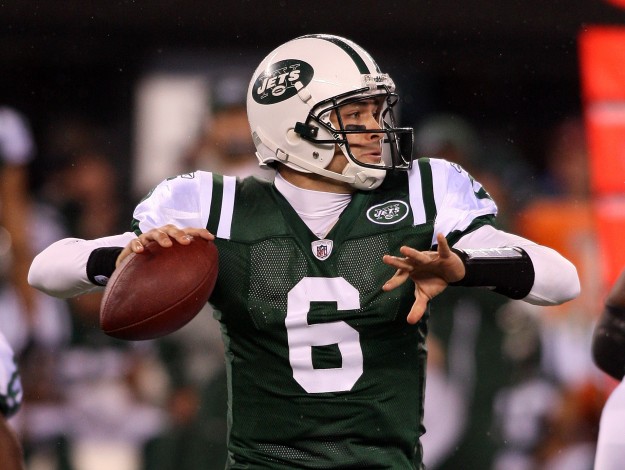 Indianapolis – JC's Dan Leberfeld put Mark Sanchez under the microscope. It was a big win for the Jets, but he needs to play better in Foxboro.
As has been the case in most games, the Jets passing attack got off to a sluggish start.
Sanchez's first pass, a throw to Dustin Keller, over the short middle, was incomplete. A couple of problems on this play – first off, it was thrown a little too hard, and it was right in Gary Brackett's area, and he's a great coverage linebacker.
Then Sanchez threw a screen to LaDainian Tomlinson on the left side and it lost five. This wasn't necessarily Sanchez's fault. The failure of this play was more byproduct of bad blocking. This possession ended with Sanchez throwing a short pass to Jerricho Cotchery. It was third-and-14, and it gained just seven. It was a short throw, and they hoped Cotchery could get the RAC to make the first down, but it wasn't even close.
The second possession wasn't much better. It started okay. On the first third down, third-and-nine, Sanchez hit Cotchery for 10 yards on an effective one-read throw on the short right side. Sanchez had some nice zip on the ball, thrown into a zone between Brackett and CB Cornelius Brown. On the next play, the Jets ran a bootleg right, and Sanchez and Keller failed to connect on a mid-range sideline route. There is a good chance Sanchez threw this away because Keller really wasn't open. This possession ended a bad pass by Sanchez on a quick slant on the right side to Holmes. It was off-target, and a big reason for this is that he threw it too early in the route, and the receiver wasn't expecting it so quickly.
The third possession was a three-and-out.
The next Jets offensive possession was a few minutes into the second quarter. And this possession was similar to a lot of Sanchez's drive, rife with inconsistency. It started off great.
Sanchez started the drive by looking down field, and then dumping to a wide open Tomlinson over the short middle. LT did a nice job running after the catch, taking this short pass 13 yards. Two plays later, Sanchez threw a perfect play-action pass to Braylon Edwards down the deep right side. Sanchez did a marvelous job of lofting this pass perfectly over Brackett, who was in front of Edwards. But this drive fizzled after these two nice plays.
Two plays after the Edwards' reception, Sanchez had to throw the ball away due a QB pressure by a linebacker, and then, on the next play, he was called for delay of the game. And then he was off-target to Tomlinson on the short left, and the Jets punted.
The Jets next possession, toward the end of the first half, was a long one that ended with a bad pick by Sanchez in the red zone.
Sanchez had a couple of impressive connections with Holmes on this drive. On the first one, Holmes had a major mismatch on the nickel back Brown, and Sanchez hit him for a gain of 15 on the left side. It was a very nice grab by Holmes. Then, four plays later, Sanchez threw a laser, on the right side, placed perfectly between Brown and cornerback Jacob Lacey, for a gain of 14, for Holmes.
But this drive was plagued by forced passes to Keller. Early in the drive, Sanchez ran a bootleg right, and threw to Keller, who wasn't open. Actually S Antoine Bethea was in better position for this pass than Keller. We all know the Jets like to run this bootleg right with Sanchez, to cut his field in half, and the Colts were all over this route, all night.
This drive ended with Sanchez throwing three passes in a row to Keller. With weapons like Edwards, Holmes and Cotchery, this was a bizarre strategy. The first of these throws, Sanchez overthrew Keller, who had a step on Bethea, down the deep right hash mark. Then after an incompletion to Keller over the middle, he forced a pass to him down the keep right left side, by the goal-line, and it was picked by cornerback Justin Tryon. It was a late and ill-advised throw. This was a bad idea, especially against a Cover Two zone. Their big thing is preventing the deep pass.
The Jets tweaked their strategy at halftime, and came out with a great plan in the second half. They focused on the run, specifically run plays that Bill Callahan determined would exploit the Colts, and it worked. And Sanchez did a good job of complementing this power running game with a few key passes, here and there.
But Sanchez's accuracy issues reared their ugly head on the first pass of the second half. Not that this play was going for a big gain, but he threw way over the head of TE Matt Mulligan in the right flat. Way over his head. This was another example of Sanchez turning his head way too quickly in his reads, and this messes up his accuracy.
The first drive of the second half featured some very good running, but Sanchez helped a great deal with a 20-yard reception to Keller, over the short middle. Sanchez threw this pass in a great spot for Keller to run after the catch. Keller beat Bethea on this play.
The second drive of the second half was another outstanding run-based drive. Sanchez contributed just enough to keep the Colts pass defense honest, a pair of 11-yard strikes. The first one, Sanchez hit Edwards on a quick slant. The receiver had good position on the 5-9 Lacey on this play. This is a good route for a 6-3 receiver against a 5-9 corner, and Edwards did a good job taking advantage of his size advantage, boxing out Lacey effectively.
The other 11-yard gain was a pass to Keller over the short middle, and Keller did a good job of breaking a tackle by LB Pat Angerer to take make a lot out of this short pass.
The Jets next two drives were three-and out possessions, both ending on passes that should have been big plays, but weren't. The first drive ended with Holmes dropping an out on the right side, The next drive ended with Sanchez overthrowing a wide open Edwards down the deep right side.
Then Sanchez led the Jets on a field goal drive at the end for the victory. The Jets started with great field position thanks to a long Cromartie return. On first down, Sanchez hit Edwards on a quick slant on the right side for a gain of nine (on Lacey). The play was reviewed and upheld. And then he hit Holmes on a short out on the left side for a gain of 11. This play stopped the clock which was huge. There was no way Tryon was going to let the speedy Holmes go deep on him, so the Jets took advantage of this, and threw underneath, and were able to stop the clock.
Then two plays later, Sanchez "threw it open" to Edwards down the deep right side. This was a gutsy back shoulder throw, and Edwards used his height advantage to grab it over Lacey. And this helped set-up a much closer, safer field goal for Nick Folk, which he made for the win.
Sanchez did enough to help the Jets win, but he finished with a 62.4 QB rating, and will need to play better for the Jets to win in New England. Remember, he beat a Colt team with 18 players on injured reserve.
---