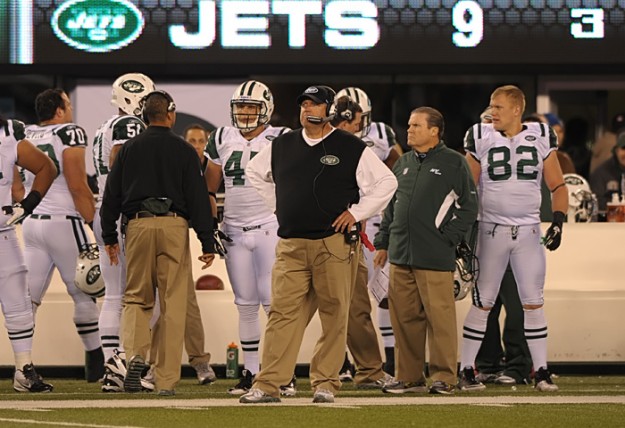 What is going on here? Rex Ryan continues to rave about his quarterback and blame the pass protection. Is Rex's love affair with his QB warranted, Let's take a look . . .
The Jets first series of the game was a three-and-out, featuring two runs, and a sack, where both tackles contributed by allowing Von Miller and Elvis Dumervil to get by them, and they met at the QB . . .
On the first play of the Jets second series, Sanchez ran a bootleg to the right side, and hit Santonio Holmes for a gain of nine.
Two plays later, there was another gain of nine to Holmes on the left side on a quick hitch – Plaxico Burress threw a nice block to help this play succeed.
Speaking of Burress, he was called for pass interference on this series. It was a borderline call.
Later on this series, Sanchez hit Holmes on a quick slant, but the play was challenged and overturned. Not to be picky, but the pass could have been a little more out in front of Holmes. If it was a little more out in front, he probably would have been able to catch it in a cleaner fashion. The Jets attempted a 52-yard field goal on the next play that was no good.
On the third series, Sanchez executed a play-action fake well, and hit Holmes for a gain of 13 over the middle. But then two plays later, the series ended when Sanchez attempted to hit Holmes over the middle again, and Miller dropped into coverage from his rushing position, and tipped the pass. It goes without saying that the Jets route tree is becoming a little predictable.
A mid-second quarter possession ended when Sanchez threw to Dustin Keller over the short middle, but Patrick Turner was in the same vicinity, so there was a lot of defensive back clutter, and the play failed.
A late second quarter possession started out with Sanchez rolling right and hitting Keller for a gain of six. Mike Mayock made a great point regarding this play. He felt Sanchez waited too long to deliver the football. Keller was open from the get-go on this short route, but Sanchez waited a bit, and then threw the ball, and this hurt the tight end's ability to run after the catch. One problem for the young quarterback is that he often doesn't trust his eyes.
A few plays later, Sanchez hits on a mid-range pass on the right side, and the wide receiver does a nice job of keeping both feet in bounds. The play was reviewed and upheld. But then this possession fell apart due to a snap issue, when Mangold attempted a direct snap to Joe McKnight, it went over his head, and Sanchez recovered, but it was big loss.
Then on the last possession of the first half, the clock management wasn't great – first of all, the Jets didn't call a timeout at the end of the Broncos failing possession to give their offense more time to work. And then on passes to Keller and then McKnight, they each probably spent too long fighting for extra yards on short passes, and burned a lot of time. Somes time you just have to live to see another play. The McKnight play burned 21 seconds from :27 to :6.
This wraps up Part I of our Sanchez review – we will have Part II on Saturday morning.
One thing is pretty clear – the quarterback is so inconsistent, even considering the protection issues, that it's hard to sustain drives.
---