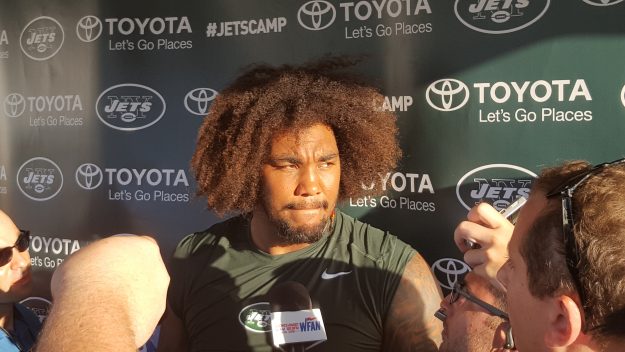 Some random thoughts from tonight's Jets practice
*The hit of the day was CB Kevin Short nailing WR Robbie Anderson on short pass on the left side.
*One of the better coverage plays was a PD by Calvin Pryor deep down the left seam on a pass to Quincy Enunwa.
*Undrafted free agent defensive end Lawrence Thomas continues to make plays in the backfield. He's very quick off the ball.
*One of the better passing plays in the practice was a TD from Ryan Fitzpatrick in the middle of the end zone to Enunwa. It displayed the favorable match-ups Enunwa will get on the inside with Brandon Marshall and Eric Deckout on the outside.
*Ryan Fitzpatrick said it may have been helpful to his arm not throwing this off-season.
*Leonard Williams said this is the first time since high school he's been in the same defense two years in a row. At USC, they changed coordinators every year he was there. Coming back in the same system for the first time since Mainland High School in Daytona Beach should help him a great deal in his second NFL season.
*Bryce Petty did some good things today, but shouldn't throw thrown into double-coverage on the goal-line to WR Jeremy Ross. The pass was picked off by CB Darryl Morris. You might throw this pass to 6-4, 225-pound Brandon Marshall, but not Ross.
*WR Titus Davis, who left the team today, was hardly getting any reps.
*****To subscribe to Jets Confidential Magazine, a monthly must-read for Jets fans, click below.
---