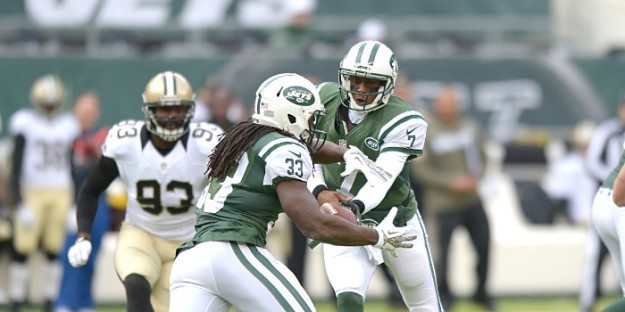 Clifton, N.J. – Dan checks in from near the stadium with some thoughts on the Jets win over the New Orleans Saints . . .
This might be the best defensive line play I've seen in my close to 20 years of covering the team.
And I strong believer in the theory of two excellent football men – Jimmy Johnson and the late Bill Walsh, who always stressed you win in this league with great defensive lines and great quarterbacks.
You can fill in the other areas, but if you have those two things, you are going to go a long way in the NFL.
And considering how many rings those men amassed, clearly they were on to something.
One sign of greatness, at any position, is performing at a high level, every week.
And that is what Mo Wilkerson is doing.
He's dominating every week.
Wilkerson was the 30th pick of the 2011 draft.
If you were to re-boot the 2011 draft, the Wilkerson is playing, in retrospect, he would challenge Cam Newton for the #1 overall pick.
That is how good he is playing.
And Damon Harrison, an undrafted free agent out of tiny William Penn University in Oskaloosa, Iowa last year, is playing like a first round nose tackle. I'm dead serious. He lost a lot of weight, going from 370 to 330, and it transformed him into an excellent player, adding a lot of quickness he didn't have before.
If there was a draft re-boot for 2013, Sheldon Richardson would go Top Five – the Jets got him at 13.
The defensive line and Chris Ivory carried the Jets to victory today.
Ivory is one of the hardest running backs I've seen in all my years around the Jets. He's like a bucking bronco at the rodeo when he gets out of the pen. Most defenders want nothing to do with this guy, and you know his former Saints teammates were thinking today, "This is the last guy we want to try to tackle." They know what he's all about.
Geno Smith was 8-19 for 115 yards and a nifty rushing touchdown.
The winning formula today for the Jets was very similar to Mark Sanchez first two years – good defense, running game, special teams and minimize the quarterback position.
It's a risky formula in a quarterback-driven league, but it certainly worked well for the Jets today.
Notes . . . .
Jets linebacker Garrett McIntyre seemed to suffer a significant knee injury today. He had some kind of brace on the leg of the injured knee, and he couldn't bend.
A guy who could help fill the void with the McIntyre injury is Troy Davis, a rookie free agent out of Central Florida. He flashed as a pass rusher this summer in Cortland, and had a QB pressure in the second half of today's game . . .
Quite honestly, the Jets coverage of tight ends this year is no better than last year. DeMario Davis was supposed to help solve this problem, but has had little impact. In fact, they rarely have him cover tight ends . . .
November 3, 2013
Premium will return by 11:30 pm on Monday.
---