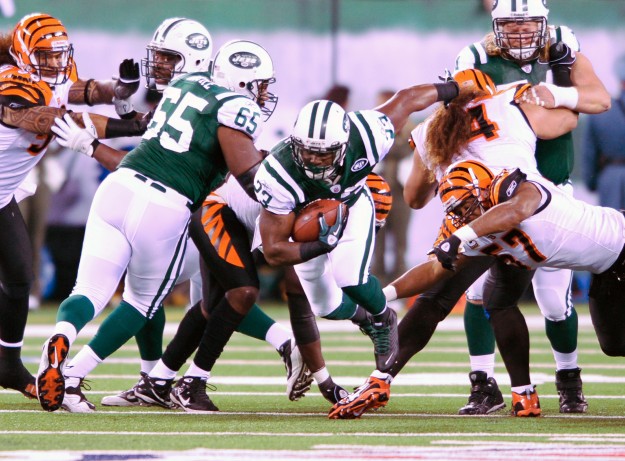 Dan checks in with more Website Whispers including notes on the layoffs, the allegations against a prominent Jets player and the naming rights for the New Meadowlands. Sign up now, for just $7.95 a month . . .
As you all know by now, the Jets let 30 workers go recently, and a reporter, referenced them in a question to Roger Goodell on Friday.
"The Collective Bargaining Agreement doesn't expire for another month, and already teams like the Chiefs and the Jets seem to be using the possibility of a lockout as an excuse to reduce their work staffs," asked Philadelphia Daily News' columnist Paul Domowitch. "Do you have a problem with any of this, and are you concerned with how it makes a league that is producing record revenues look when it lets paycheck-to-paycheck people go like this?"
This question didn't present the Jets in the best light. So what is the story with those layoffs?
"We are on the record as stating that these were not layoffs, these were job eliminations related to the end of the new stadium sales effort," Jets spokesman Bruce Speight told JC.
The Jets still have some unsold inventory, but it is in the club seat section,  and doesn't involve regular seats. And they have full time staffers who will handle these club seat sales.
About a year ago, the Jets had two trailers set-up in a parking lot right behind their indoor practice facility. These two trailers were pushed together, and made into one big office space. In these trailers, there was a "boiler room" type set-up, like one of those Wall Street call centers that used to be more common. And they hired a bunch of people to make non-stop calls selling PSL's.
This must have been a tough job, kind of like selling timeshares.
So it's the people who were working in these trailers (perhaps I should call it modular homes – that sounds classier) – who were let go.
And based on the nature of the job, some of them were probably relieved. It was not an easy job . . .
The New Meadowlands Corporation has yet to be able to land a title sponsor for the new stadium. So it was somewhat surprising, when it was announced this week, that a proposed Los Angeles stadium, yet to be built, made a deal for naming rights. AEG Corporation, the owner of the Staples Center, and a candidate to own a potential Los Angeles NFL team, landed a 30-year, 700 million naming rights deal with Farmer Insurance.
So if a stadium not even built yet can get a deal like that, why can't the Jets-Giants venture? One Giants' source thinks the Los Angeles deal could lead to a Jets-Giants deal.
"Ultimately it's a good thing for us," the source said. "The other deal shows people are willing to spend money in this way again and it re-establishes a market."
Remember, the Jets and Giants had a deal with Allianz Insurance, but do to PR pressure, cancelled the deal. Allianz had some unsavory connections in Germany during World War II . . .
According to a sports rumor website, a Jets player reportedly was in a relationship with a 17-year-old.
If the story is true, will the player be in any hot water?
"The age of consent in New Jersey is 16," a New Jersey-based lawyer told us. "It's a non-issue. Look at Jerry Seinfeld."
Seinfeld starting dating his current wife, when he was 40, and she was 19 . . .
---