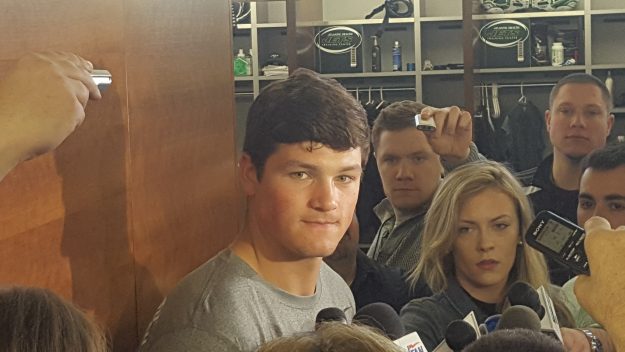 Did "Hackenberg hit reporters with passes twice" at Jets OTA practices?
I didn't see it, so I will defer to NJ.com on this one.
I was there for every minute of the three OTA practices, but I didn't see it.
It was probably a couple of passes that went of bounds on the media sideline.
But what is sad is this story has gone viral, and websites and message boards all over the internet are destroying the kid.
Does Hackenberg need to improve his accuracy? Absolutely. So do Deshaun Watson, Jared Goff and Blake Bortles. A lot of young quarterbacks do.
Are the two passes that went out of bounds and hit reporters, according to NJ.com, illustrative of his accuracy problem. I'm not sure. There are going to be incompletions in spring practices. Perhaps this anecdote is a bit hyperbolic and people are blowing it out of proportion.
The Jets have a new offense, a lot of new receivers; Jets quarterbacks and receivers are still working on getting on the same page. A lot of factors go into spring practice incompletions.
This story is a perfect example of why so many coaches don't want reporters at spring practices. This is a time for teaching, learning and growing. It's not a time for stats and style points.
Congratulations to NJ.com for all the traffic this story has created.
I guess that is the bottom line these days.
Were there some positive things written about Hackenberg in this story? Yes.
But that's like asking, "Mrs. Lincoln, how was the play?"
All people are talking about are the two passes that hit reporters.
*****To subscribe to Jets Confidential Magazine, click below, or call 1-800-932-4557 (M-F, 9-5).
---