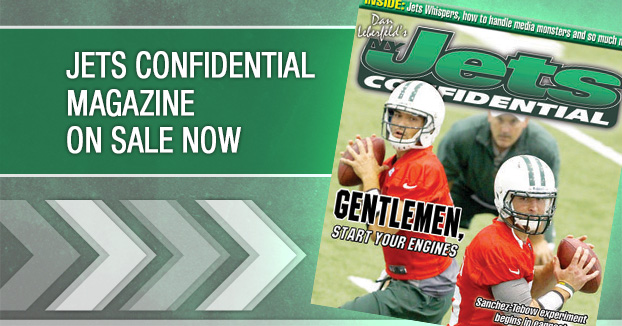 In Week 8, the Jets play Miami for the second time.
This game is going to be more difficult than the first encounter.
At this point of the season, the Dolphins should be comfortable with their new playbooks.
And remember one thing – the new coaching staff in Miami didn't inherit an empty cupboard.
This isn't a major rebuilding job.
From a talent-standpoint, the Jets aren't that much more talented than the Dolphins. It's pretty close.
Let's be fair. The David Gerrard-Matt Moore quarterback duo is commensurate with the Jets combo of Mark Sanchez and Tim Tebow. Dolphins first round pick, quarterback Ryan Tannehill, will be riding the pine most of this year.
One factor that should help the Jets in their matchups with the Dolphins, is the great insight Tony Sparano (and Dave DeGuglielmo) have on their player personnel.
Sparano, especially, has a great feel for the strengths and weaknesses of a big chunk of Miami's roster.
If the Dolphins' corners have issues on certain routes, Sparano will be able to call plays to take advantage of that.
Sparano and "Guge" will also be able to help the Jets' defense, especially the pass rushers.
Both Tony and Dave are offensive line gurus. If Jake Long or Mike Pouncey are susceptible to certain pass rush moves, these two coaches can lend this insight to Calvin Pace and company.
And obviously on offense, Sparano and "Guge," will be able to help the Jets' offensive linemen a great deal with insight on Cameron Wake and others, and what they like to do.
Just focusing on Sparano for a second, he is really going to help the Jets overall in this division.
Rex is going to lean on Tony quite a bit for insight, especially against teams like Miami, New England and Buffalo. The man really knows this division.
And this year, in both Miami games, Tony (and Guge) are going to be secret weapons for the Jets . . .
What is my take on Santonio Holmes comments on NFL Network?
Here is the quote from him getting the most attention – he was asked if a two quarterback system can work.
"No. No, I don't think so. You have to allow one quarterback to get into the rhythm of the game. It starts from the preparation in practice, knowing the first couple of plays that he's going to take these reps. It's getting a feel for coming onto the field with the crowd awaiting you. It's the making the mistakes early in the game to finishing the games at the end. You don't just change a guy out just because he has a few mistakes early in a game."
You know what, I think Holmes was actually trying to support Sanchez. He often says things that don't necessarily come out with great clarity, but I think he was throwing a bone to Sanchez here.
But I don't think he was dissing Tebow either.
All he was saying is, and I totally agree with him, is you can't expect the starter to be perfect – there are going to be incompletions. You can't be calling for his head, and to insert the backup, after a few mistakes.
While Holmes comments were construed by many as a derisive, I don't think that was his intent.
He just feels there is a role for Tebow, but not in a platoon with Sanchez.
I think Holmes comments were blown out of proportion.
July 18, 2012
(Premium will return by 9:30 pm on Thursday.)
---