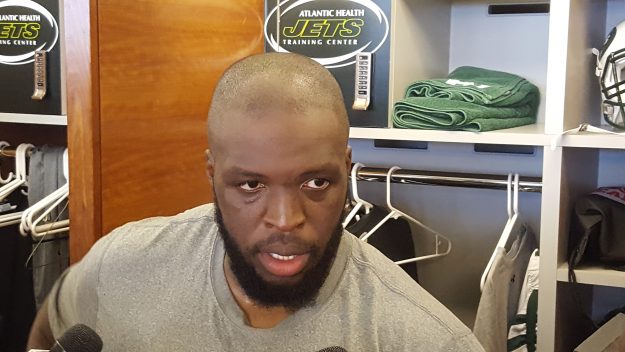 Florham Park – The Jets are going to start either Ben Ijalana or Brent Qvale at right tackle with Breno Giacomini on the PUP list.
So this position is clearly a question mark for the Jets entering the season, since neither Ijalana or Qvale has a ton of NFL game experience.
But based on how each looked in training camp, the Jets should be able to get by with either player. During the summer, Jets QB Ryan Fitzpatrick didn't get a ton of pressure from that side, either in practice or games.
But don't expect perfection.
Sometimes when there is a big question mark at a position, observers put a large spotlight on that spot, and whenever there is a bad play, the sky is falling.
Whether it's Ijalana or Qvale, there are going to plays that are far from perfect. They are going to make mistake.
Heck, Giacomini had some rough moments last year.
It's going to happen.
And Todd Bowles knows that.
"They get to make their mistakes and they get to play," Bowles said. "I can chose one, or I can play them both. We still haven't decided that part yet, but I'm not going to yank them off of one play. I'm not going to yank them off of one mistake, no."
So while Ijalana and Qvale should be able to a serviceable job, don't expect either to walk on water.
*****To subscribe to Jets Confidential Magazine, click below, or call 1-800-932-4557 (M-F, 9-5)
---