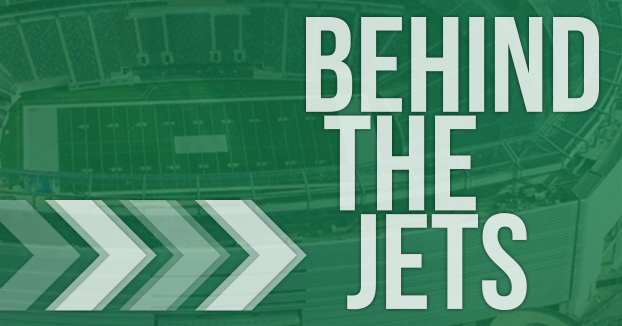 FLORHAM PARK, N.J. – It's time for a heaping helping of OTA notes. Let's get it started . . .
Fresh off a strong rookie minicamp last weekend, Bethune-Cookman transfer K.J. Stroud is looking to build off that showing.

Formerly a three-star recruit who went to Rutgers, Stroud is finding an NFL chance with the Jets. He worked out with the team during a local workout day prior to the draft and impressed general manager John Idzik.
Five teams reached out to him after the draft about signing as an undrafted free agent but the relationship he built with the Jets tipped him to the team.
"Their interest all along helped," Stroud told Jets Confidential. "We had good communication, almost day-to-day sometimes. I felt comfortable."
Stroud showed himself to be a good downfield receiver, He runs a good route and has solid hands.
"There's really no 'label' to my game. I think I'm an all-around guy who just wants to get better," Stroud said . . .
With the loss of Dustin Keller to free agency this past offseason, the Jets come in with a group of tight ends who are a bit unknown. One name who could step-up is Hayden Smith, the rugby player who converted to football last offseason.
The fact that Smith is even in the mix at the position is a testament to his work ethic and athleticism; after all, this is a player who never wore a football helmet until rookie minicamp last year.
Now entering his second season in the league, Smith is looking to improve on last year's five games played and one catch with a more prominent role in the offense.
"A year completely changes everything. I feel far more comfortable than last year. Now I'm not trying to understand things, grasp what is going on," Smith told Jets Confidential.
He said that he spent this offseason working on his strength but also put an extra emphasis on his footwork.
"The coaching staff wants me to be more explosive off the line," Smith said . . .
With the changes in the Jets' backend, there will be more opportunity for strong safety Josh Bush heading into his second year to be an impact player. Last year, he played in all 16 game and registered 11 tackles, but with the Jets losing their top three safeties, a young player like Bush could make an impact.
Increased playing time is more about between the ears than between the lines for Bush.
"For me, it is all about the playbook. Just knowing it better, understanding it better," Bush told Jets Confidential. "My comfort level in it has increased greatly."
He plans on working out with cornerback Antonio Cromartie and Kyle Wilson in California when OTAs are completed . . .
Signed by the Jets this past Sunday, defensive lineman Lanier Coleman is looking to impress. The former Louisiana-Lafayette product had a tryout with the Vikings in 2010 when Jets defensive line coach Karl Dunbar was in Minnesota. Now Coleman is looking to impress Dunbar again.
"They liked my effort, that I was always looking to make plays and be positive," Coleman told Jets Confidential. "I just want to keep bringing that now. They want me to be versatile, play anywhere along the defensive line but primarily I've been in the three-technique." . . .
Linebacker Josh Mauga could benefit from the Jets losing two starters at linebacker this offseason and he is almost fully back from a torn pectoral muscle that cost him much of last season. On the field, he says he isn't affected but he said he is still working on getting strength back in the weight room . . .
Another linebacker looking to step into a prominent role and perhaps a starting role is Demario Davis.
Anointed by head coach Rex Ryan as a future leader on this team, Davis is now a frontrunner to start at inside linebacker. He has added 10 lbs. of muscle this offseason and is working out locally at a Parisi facility, known for their combine training. In addition, he's been working out with Jay Caldwell on his technique.
He has spent much of this offseason focusing on his footwork, using power-bands to strengthen that lower body. From a development point of view, he's also been focusing on being in the proper position and reading the game better, not just relying on his instinct . . .
Playing in the West Coast offense won't affect right tackle Austin Howard very much.
"It's still the same thing. Block for the quarterback, block for the running backs," Howard said with a laugh. "Maybe some plays are different, but fundamentally it isn't that different."
Part of Howard's rise to a starting role last season was due to his conditioning and his loss of weight that coincided with a better diet and lifestyle workouts. He told Jets Confidential that he's kept the weight off, even on a cruise this offseason.
"I avoided the buffets, went straight for the restaurants," Howard said. "They give you a serving and you can stick to that. It's easier to be good that way."
May 16, 2013
Premium will return by 9:30 pm on Friday
---