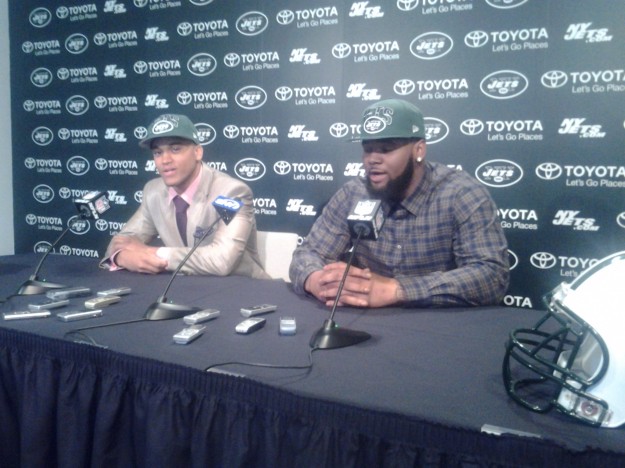 FLORHAM PARK, N.J. –The Jets' opened rookie minicamp on Friday and with the competition theme dominating the discussion . . . . . . . .
. . . it is clear that a number of rookies and first-year players are being given the opportunity to win roles on the team.
The headliners were not necessarily the talking point this first day of practice.
First round pick Dee Milliner did not practice as he rode the stationary bicycle and then took "mental reps" during drills and defensive lineman Sheldon Richardson had a hard time getting to the quarterback during drills. Then there was second round pick Geno Smith, who had an up-and-down day and struggled with his accuracy . . .
Having spent last year in the Arena Football League, cornerback Eric Crocker certainly passes the eyeball test with a broad 6-foot-2-inch frame and big hands. He enjoys physical play and presses well at the line but struggled against smaller, more nimble wide receivers down the field. He has a good nose for the ball and had several impressive pass breakups. He breaks very well and could be an intriguing player heading into training camp.
At first glance, seventh round pick Tommy Bohanon could be a great fit in the Jets' new West Coast Offense. He is quick and nimble for a player of his size and has above-average hands. He moves well in the open field after a catch and knows how to angle his runs for additional yardage. He had a couple nice grabs today. He told Jets Confidential that the team liked his pass protection ability.
Another good fit for the West Coast Offense is John Griffin, who was on the Jets' practice squad last year.
Griffin is fast and elusive, a product of UMass who boasts outstanding feet. On Friday, Griffin showed good hands and a keen understanding of when to bounce outside as a check-down option. He even looked comfortable running routes downfield.
Griffin currently weighs in at 213 lbs. – that is eight pounds more than he weighed last year but he expects to lose five pounds by the end of training camp. He currently has a body fat percentage of 4.9 percent.
"They really like my pass protection ability, but also that I can catch the ball out of the backfield too," Griffin said. "They said that me and Joe McKnight are similar players in what we bring." . . .
Lanier Coleman, a nose tackle out of Louisiana-Lafayette, has a good motor and also quickness in his pursuit.
"People are always surprised with my quickness and how I move," Coleman told Jets Confidential. "I think that can really help me in the three-technique." . . .
The guard competition is certainly open, with the Jets having lost Brandon Moore and Matt Slauson this offseason, both long-term starters along the offensive line.
Third round pick Brian Winters possesses good physicality and finishes his blocks well. He played the three years at left tackle but he enjoyed playing the interior at the Senior Bowl.
"I feel comfortable there (guard)," Winters told Jets Confidential. "I've played mostly tackle in college but with my height and size, guard is a good fit. It doesn't matter where; I feel I can play either side."
Back to the hype about the new Jets' quarterback.
Geno Smith didn't look terribly comfortable in the pocket and seems to have happy feet with his head on swivel.
Of course, rookie mini-camp is often a sensory overload for young quarterbacks who have to learn new terminology, new schemes and new targets. So Smith's struggles shouldn't be discouraging, but expected.
However, he did show the kind of arm strength and ability to hit receivers in stride that could be a natural fit in the West Coast offense. His downfield passing on the deep balls was bad and he threw a couple of ducks. In addition, he tried to finesse the ball too much in tight coverage.
But Smith was impressive in short to intermediate yardage situations and he goes through his progressions well. His release is quick and smooth and he throws on the numbers of his receivers . . .
After being with the Jets last rookie mini-camp, then mini-camp and training camp, Matt Simms seems to have gotten better, sharing snaps with Smith. He has improved his check downs. Simms needs some work on his accuracy . . .
An interesting name to watch is Mason Robinson, a product of Rutgers who struggled with injuries during his six seasons "on the banks of the Raritan." He was highly recruited out of high school and was a four-star according to Rivals.com but injuries derailed his promise. Originally a running back who was moved to wide receiver then cornerback, Robinson boasts world class speed and fluid hips.
May 10, 2013
Premium will return by 9:30 pm on Saturday.
---