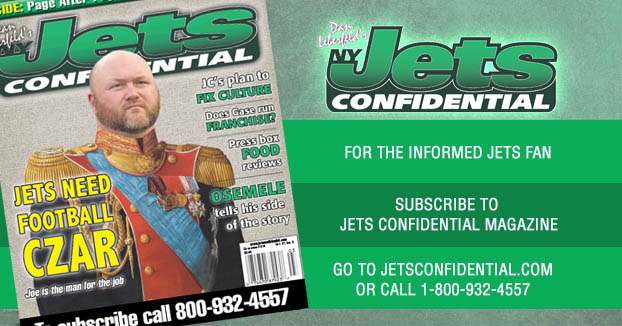 Here is an excerpt from Joe Flacco's introductory Zoom conference call with the New York media . . .
Rich Cimini – ESPN: Joe could speak to coming to the Jets? Could you take us through the process? Why sign now as opposed to waiting a little bit in the preseason when you were fully healthy?
Joe Flacco – Jets backup QB:  I guess that kind of thought process I was back and forth for a while, but ultimately I think it's important to get on a team and get comfortable with the guys on the team and get comfortable with Sam in this situation, and get comfortable with the offense, I will at some point be running in some capacity.
I had to make a decision to get something done this off-season and being on a team come this fall was an important thing for me.
Dan Leberfeld – Jets Confidential: Joe, how did you guys come up with that timetable, whether it was you, the doctors or the Jets, where you guys felt that you would be ready in the middle of September. How do you [determine] that was the time?
Flacco: I want to get away from talking about timetables right now. Anything you do hear isn't coming directly from me. I'm really relying on the doctors at this point to come up with that timetable. When we get there, we will see how everything's going. I'm ready to move forward, I just want to make sure I'm as safe as possible going back out on the field and taking a hit if that is what it needs to be. I'm really relying on the doctors, that is the main decision-maker.
Mark Cannizzaro – New York Post: Joe, you have obviously been a star and a performer at the highest level of the game here over the years. Can you speak to, once you do get all the stuff down, the things you can do for Sam as a backup, and obviously that is a new role for you.
Flacco: I'm fully embracing it. It's where I am right now. I'm glad to be on a team playing football in some capacity.
I think it's going to be huge to get in there and know the guys and develop a relationship with the team and do anything I can to help the team get better, and in that process, help Sam with whatever he needs help with. Take his mind off of something. Tell him how I see things or tell him how I dealt with this in the past, if it's on the football field, or off the football field.
*********************************************************************************
To subscribe to the monthly Jets Confidential Magazine, click below. A must-read for Jets fans. Check it out!
---