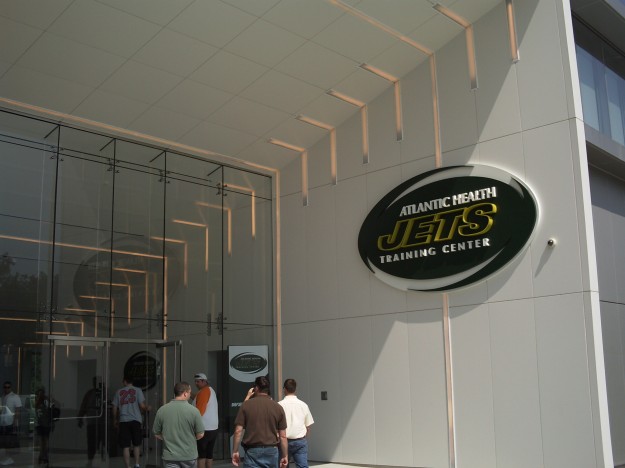 Kenrick Ellis is in jail right now in Virginia. Obviously, that isn't a good thing, but Ellis is a very lucky man.
A couple of years ago, Ellis punched fellow Hampton University student Dennis Ely in the face, so hard, he broke his nose, jaw and knocked out or chipped nine teeth. We also hear (hide the children), Ely had a couple of teeth protruding out of his jaw.
For some reason, most people on the Jets' beat, when writing about the story, don't want to mention the gory details. They just say he was accused of assault.
The punch left Ely unconscious. The injuries led him to drop out of school. He needed two surgeries.
Ely reportedly had an argument with Ellis' girlfriend, and this led to a fight between the 6-4, 350-pound Ellis and the 6-2, 180-pound Ely.
Considering all the damage Ellis did to Ely's face, he got a pretty light sentence – 45 days in jail, and a split sentence, so he wouldn't miss any of training camp.
Ellis went to jail last Friday at 6 p.m., He will be released on July 9. He will return to jail on March 1, 2013 to complete the 45-day sentence.
The split sentence caught some people by surprise.
A long-time lawyer in the Tidewater-area told JC that he was "surprised" at the split sentence, and felt there was some special consideration going on here. This lawyer surmised that Ellis' star status on the Hampton football team might have helped him in a Hampton courtroom.
Ely's mother got into a verbal confrontation with the prosecutor after the verdict. She was livid at the sentence.
The biggest factor that helped Ellis in the court of law was clearly the lack of an eyewitness.
"Without some eyewitness, it's a 'he said, he said' situation," said a reporter covering the case. "That was malicious wounding. You can do 20 years for that, but apparently there weren't any good eyewitnesses. If somebody saw that beating, he could be in all kinds of trouble. That weighed heavily in the decision."
Ellis' lawyers line of defense has been, "it was mutual combat, and my client won."
On paper, you can make the argument, Plaxico Burress went to jail for two years (gun possession in an NYC nightclub) for a less of a crime.
And by the way, from everyone I talk to surrounding this case, that theory that Ely was swinging a baseball bat at Ellis, seems to have gone by the wayside.
You all might think I'm being too hard on Ellis.
I don't agree with that.
To be perfectly honest, I just a little tired of Rex and others somehow shedding this guy in a sympathetic light right now.
"You really want to cheer for this guy," Ryan said during minicamp.
Really? Go back a few paragraphs and read about the teeth sticking out of Ely's chin.
I've told you guys before, I've talked to Ellis several times, and he comes across as a very nice young man.
But I really don't like this sympathetic angle out there – oh, this poor guy, he had such a great spring, and now he has to go to jail.
I'm sorry, I can't go there.
(Premium will return by 9 pm on Friday night.)
---