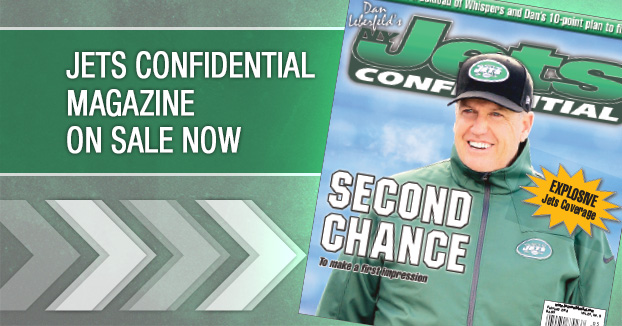 New Jersey – It remains to be seen how this Darrelle Revis situation is going to play out. But John Idzik showed a stiff upper lip early on.

I was going back over the transcript of the John Idzik introductory press conference from January 24, and you have to give him credit for how he handled the Darrelle Revis story, which broke he day before.
Jason La Canfora reported that Woody Johnson was interested in trading Darrelle Revis because the team might have issues re-signing him.
Idzik was asked repeatedly about this story. And I mean repeatedly.
"I think it's way premature to say anything specific," Idzik said. "Again, I haven't even had the chance to sit down and thoroughly vet through our roster with Rex, his staff (and) with our personnel staff. I think it would be presumptuous to say anything like that."
He was asked many more Revis questions, and didn't cave.
"One of our first steps is to go through our roster in detail," Idzik said. "That includes (Darrelle), that includes everybody on the roster. Then develop a comprehensive plan off of that. But it's still a little bit premature to say."
This second answer sent a powerful message that Revis is one of many players on the roster, and they all need to be reviewed.
Several reporters were aghast at this answer, including a columnist from ESPN New York.
They could not believe that he viewed Revis has "just another player" on the roster.
Surely Idzik doesn't view Revis through the same lens as Dennis Landolt or Vidal Hazelton.
Revis is the most talented player on the team. He knows that.
But he's not going to go down that road, the one Rex goes down too often, where he "cantonizes" Revis in the press.
Especially because Idzik was promoting the power of "we" over "me" in this press conference.
There has been too much "we" stuff going on the last couple of years.
So no matter how much Idzik was browbeat by certain reporters on January 24 over his "blasphemous" statements equating Revis to all the other players on the roster who need to be reviewed, he never blinked. He stuck to his talking points.
It remains to be seen if Revis stays or goes, but one thing is for sure – Idzik isn't going to be beaten into submission in the court of public opinion by he Revis camp (that has a lot of friends in the media).
He's going to do what he thinks is right.
If agents Neil Schwartz and Jon Feinsod turn this into another ugly battle in the press, don't expect Idzik to cave or cower.
He's not that kind of guy.
He's a skillful, even-keeled negotiator.
And the fact that he refused to give into the demands of the reporters who were insisting to him he needed to address the Revis situation immediately, that showed you a lot about him.
Idzik has done thousands of contracts – he is well aware of how this games works.
February 13, 2013
Premium will return by 10 pm on Thursday.
---