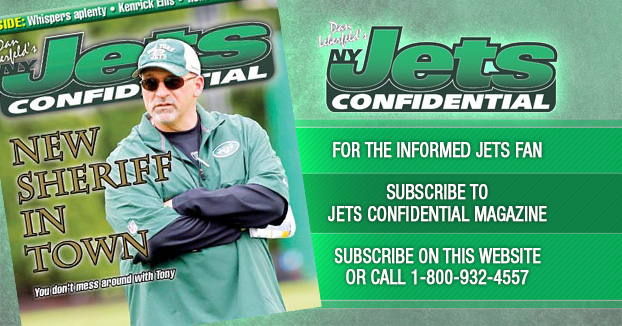 Let's put it this way – if the New York Jets don't beat the Indianapolis Colts, at home, in Week Six, they probably won't be a very good team in 2012.
There is major rebuilding job going on with the Colts.
They have a first-time NFL head coach (Chuck Pagano), a first-time GM (Ryan Grigson), a rookie starting quarterback (Andrew Luck), and two rookie starting tight ends (Cody Fleener and Dwayne Allen).
They are also making the often difficult transition from the 4-3 to 3-4 defense. Pagano, spent the last four seasons in Baltimore, three as secondary coach, and last year as defensive coordinator. So it stands to reason, he runs a defense very similar to what Rex Ryan likes to do.
Pagano worked under Ryan in 2008 in Baltimore.
So this transition will force long-time 4-3 ends, Robert Mathis and Dwight Freeney, to be outside linebackers. It remains to be seen how these talented pass rushers can transition to the 3-4 OLB position, both on the wrong side of 30.
Honestly, it would be shocking if the Colts are a playoff contender this year.
Pagano and Grigson are both so new at their respective jobs, it's hard for either to give the other much sage advice. They are both learning on the job.
If the Colts are going to surprise people this year, Luck will need to be a precocious rookie. And considering his pedigree, he might turn into a precocious rookie.
He was been preparing for this job his entire life. His father is former NFL QB Oliver Luck, who imparted a ton of quarterback wisdom on his son over the years. Luck is currently the athletic director at West Virginia.
Luck then went to Stanford, where he played in a pro offense under former NFL QB Jim Harbaugh, who did a great job of molding Andrew his first two years, before the coach left for the 49ers. The Cardinal kept the same offense last year, under new coach David Shaw.
Two guys who helped develop Andrew last year, were two former Jets assistants – Mike Bloomgren and Pep Hamilton. Also, Shaw, who spent 10 years as an NFL assistant, helped Andrew's NFL preparation a great deal.
Luck is one of the most NFL-ready college quarterbacks to enter the league in some time.
He's already really good at reading defenses, has excellent pocket presence and a high QB IQ.
He seems like a slam-dunk prospect.
But even the great QB prospects tend to struggle as a rookie. Maybe he will buck the trend.
The Colts' offense line will have a big say on whether he can succeed as a rookie. This group is a mystery right now. It's a group in major transition, and expect D-Rex to take advantage of this hodge-podge group.
It shouldn't be a surprise that Grigson (a former NFL offensive lineman himself), brought over two former Eagles offensive linemen, and they will likely start – right tackle Winston Justice (infamous for giving up six sacks in one game against the Giants), and right guard Mike McGlynn. The starting center will be journeyman Samson Satele (former Dolphin and Raider).
The left guard spot is up on the air, but left tackle will be manned by 2011 first round pick Anthony Castanzo. Not all scouts were sold on him as a left tackle, and it remains to be seen if he can do it. Clearly Rex is going to go after this group aggressively.
We look more at the Colts' defense on Saturday.
July 13, 2012
(Premium will return on Saturday by 9:30 pm.)
---