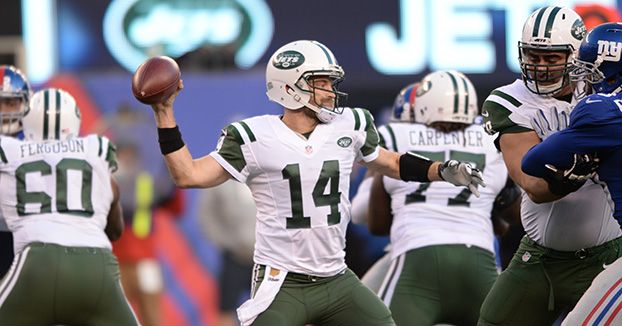 It's kind of a wishy-washy position to take, but you can make a strong argument that both sides in the Ryan Fitzpatrick contract dispute have respectable points of view.
Even with his shortcomings, Ryan Fitzpatrick put together one of the finest QB seasons in Jets history last season with 31 touchdowns. It was some of the best QB play we have seen around here in quite some time.
So perhaps the Jets' latest offer, a three-year deal for $24 million with $15 million guaranteed is a little low.
However, last year was Fitzpatrick best season in the NFL, so the Jets feel they need to hedge their bet a little. Who knows if he can repeat his 2015 campaign. Was it an outlier? Also, Fitzpatrick had a rough outing in a must-win game at Buffalo, which certainly hurt his bargaining position.
So you can really respect the positions of both sides.
To find a middle ground that works for Fitz and the Jets, perhaps they should look due south to Philadelphia.
The Jets' current offer to Fitzpatrick is closer to what the Eagles are paying their backup Chase Daniel, than what they are paying their starter, Sam Bradford.
Early this off-season, Daniel signed a three-year deal for $21 million with $12 million guaranteed. Around the same time, Bradford signed a two-year deal for $35 million with $22 million guaranteed.
Bradford threw 19 touchdowns last year, 12 less than Fitzpatrick. Also, Fitzpatrick helped lead the Jets to a 10-6 season, and Bradford's Eagles went 7-9.
So if Bradford can get $22 million guaranteed (with a twice blown-out left knee), why can't Fitzpatrick?
How about getting the guarantee closer to Bradford than Daniel?
How about a three-year deal for $30 million with $20 million guaranteed?
Sounds fair, no?
****To subscribe to the monthly Jets Confidential Magazine, and get a free Jets player calendar (the offer has been extended and expires June 10), click below.
---