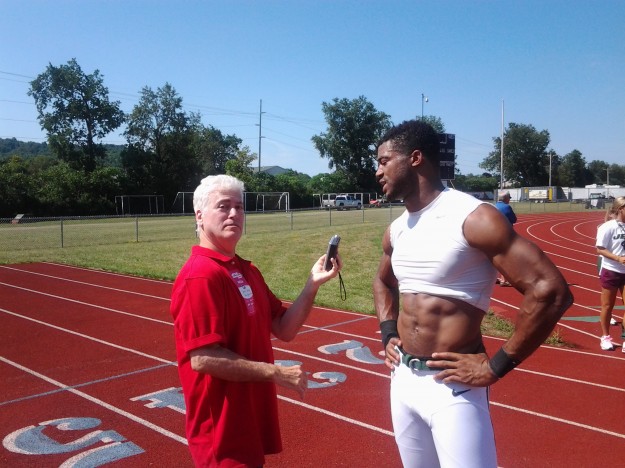 Cortland – Everyone thought the Jets summer in Cortland was going to be like a three-ring circus.
Has it lived up to that?
To a certain degree, but it's not as crazy as I thought it was going to be.
Aside from ESPN's wall-to-wall coverage, things haven't been too wild.
And believe it or not, one of the biggest media issues has had nothing to do with Sanchez-Tebow.
Some players aren't happy with reporters picking them off as they are trying to get to the locker room after practice.
Here is the problem.
In order to interview players after practice, reporters need to submit the request to the public relations department.
Say there is one request for Aaron Maybin.
Okay, he does the interview, and when he finishes, as he tries to leave to go to the locker room, another reporter, who didn't request him, grabs him anyway, and sometimes another one after that.
This has happened to a number of players, and they are getting ticked off. They want it to stop.
One issue here is how fierce the competition on this beat right now.
Say two beat writers are particularly fierce competitors, and one of those writers requests Wayne Hunter. The writer from the competitor sees this interview going on, and when Hunter walks away from the interview that was set-up the proper way, somebody from the competing paper, a paper that didn't request him, will go over and talk to him because they don't want to get beat by rival.
Remember, these players are walking off the field after a 2.5 hour morning practice. They are wiped-out. Do you think they want to deal with this scenario? One interview fine, but three or four, when they were told they were doing one? No way.
Here is one situation I noticed. Steve Serby was interviewing Maybin (see above photo). Serby requested him. When Steve finishes, another writer from his OWN paper (not Brian Costello), grabs Maybin, and he does another 10 minutes. Two guys from the same paper doing long interviews with the same player on the same day?
Maybin had a right to be ticked off.
This situation is so out of control, the PR department had a meeting with the beat writers to try to fix this problem.
We will see on Wednesday if things improve . . .
Here is another problem where the beat writers had a legitimate beef with the team.
Beat writers are told repeatedly – "do not report trick plays that you see in practice."
This edict has been in place for quite some time.
But on Monday, ESPN did a special from Jets camp, that was broadcast all morning, throughout the course of practice.
ESPN actually showed several fake punts, where Tim Tebow, the punt protector, took off running or threw a pass.
The beat writers can't report this stuff, but ESPN can broadcast it on national television?
This wasn't handled well, and the PR department apologized to the beat writers.
Mike Westhoff claims that no harm was done by ESPN broadcasting these plays, because he won't use those exact plays in a game.
July 31, 2012
(Premium will return by 3 pm on Wednesday.)
---