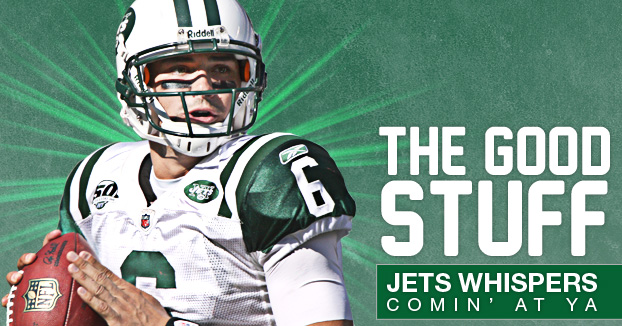 Florham Park – Dan Leberfeld checks in from One Jets Drive with another helping of "The Good Stuff" from camp . . .
It was interesting watching the Jets red zone drill today; Brian Schottenheimer working with Plaxico Burress on where he wanted him to stand in the back corner of the end zone. This is one of the biggest reasons Burress was signed, to help the Jets substandard red zone offense . . .
Bart Scott was beat on consecutive pass plays in practice. Last year he was a little inconsistent in coverage as well. He needs to step up this part of this game . . .
While on the topic of linebacker coverage, David Harris tipped a pair of passes in a short period of time . . .
Darrelle Revis was unreal in the afternoon practice. It was impossible to get open on the guy. It was the Hall-of-Fame weekend in Canton, and that is where he's headed one day . . .
Fullback Brian Toal getting into a fight this morning was smart. It's a good way to garner some attention . . .
I've been very impressed with Bilal Powell. He looks like a terrific between-the-tackles runner. He runs low to the ground and is very quick in small areas. Powell looks like a better in-between-the-tackles runner than Joe McKnight, who looks much better in open space . . .
Mark Brunell can still "spin-it" as Mark Sanchez likes to say. That means he can still throw with good velocity.  He threw a deep pass today down the left side that was just out of the reach of Michael Campbell.
He threw a perfect fade to Campbell for a touchdown on the left side.
He also threw a pretty quick out to the underrated Logan Payne . . .
Once again, there were a myriad of off-sides penalties in practice . . .
Jeremy Kerley caught a decent length pass on the left side in front of Antonio Cromartie. It was one of those plays where you scratch you head and say, "What are you doing Cro?" . . .
One thing you didn't see at Jets camp this summer was anybody reporting in awful shape. With the lockout, this has been a problem around the league with a perfect example being Minnesota left tackle Bryant McKinnie who reported at around 400 pounds and was released . . .
The kicking battle will be interesting to see evolve. In Nick Folk and Nick Novak, you have two experienced NFL kickers. This isn't a veteran against a young'n like you often see in camp. These guys have pretty equal talent . . .
Garrett McIntyre had another sack. I truly believe this guy has a very good chance of making the team . . .
From what I hear about Derrick Mason, he always wants the football. He's unbelievably competitive. If will be interesting to see if he can keep his explosive personality in check if he's not getting the rock a lot.
---