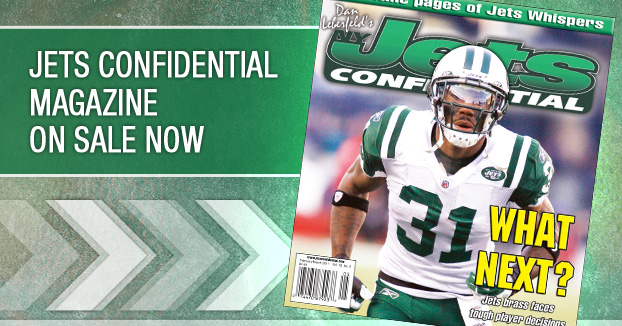 Sal Alosi stepped down. What a mess that was. Dan looks into that situation, and has a few other notes in this edition of Website Whispers.
The Jets will likely have their fine ($100,000) reduced by the NFL. It's a no-brainer. After the Jets gave Jay Glazer that tape, he showed on Fox, where the Pats formed a wall, and one of their players stuck his leg out to trip a Jet, the Jets will have a fine reduction, OR, the Pats will get fined $100,000 also. It's one of the other . . .
And linebacker Shaun Crable's got nothing to show for telling the Jets what the Pats did. He was on the Jets practice squad when he told Gang Green officials about the Pats' indescretion (he was a former third round pick of New England), but he wasn't signed to a future's contract, and is now a free agent . . .
The Jets must have given Alosi a nice settlement with a gag order in it. Why would he walk away so quietly, and take the high road?
Boomer Esiason said that Mike Westhoff was playing a game of semantics when he said the Jets don't teach what Alosi did. Esiason said Mike Westhoff kept saying the Jets don't teach that (tripping), but didn't talk about the wall. So what Esiason was implying was that Westhoff knew about the wall, but never promoted tripping. Westhoff denies Esiason's allegation.
Remember, Boomer and Alosi are both Long Island guys, and know each other, so when Esiason accused Westhoff of "semantics" our guess is that he got that from the Alosi camp . . .
By the way, we hear the reason the Jets didn't sign Crable to a future's contract is that he can't play special teams, and they want their backup linebackers to be able to do that . . .
Speaking of backup linebackers and special teams, with all due respect to Lance Laury, I can't remember the last play he made on special teams. He was signed by the Jets last off-season, with the reputation as one of the better special teams players in the league. He was very, very quiet with the Jets, and there is little chance he's back. He signed just a one-year contract, and is a free agent now.
Laury made $687,280. The Jets can go a first-year player, like Brashton Satele, and pay him $320,00 for the role Laury played, as the second backup inside linebacker. Josh Mauga (who I think can be special) leapfrogged Laury, and became the Jets first guy in at inside linebacker.
Also, this kid Joey LaRocque could be a factor at one of the back linebacker/special team's spots.
Jets assistant GM Scott Cohen did a good job scouting the UFL. Remember the Jets signed a number of players from that fledgling league.
Defensive backs Manny Cook and Isaiah Trufant were from the UFL, and they helped Gang Green late in the year. And then they signed QB Drew "Joe" Willy, RB Chris Jennings and LaRocque from the UFL to future's contracts.
LaRocque was one of the better linebackers in the league, playing for Omaha last year. He's a little undersized from a weight standpoint (6-2, 227), but has great speed (4.57 forty before the draft) and was a very good player at Oregon State. He was a seventh round pick of the Chicago Bears in 2008.
He was of those guys who has special team's fiend written all over him.
You have to give the Jets credit. While other teams had a bad attitude about the UFL, the Jets didn't. With NFL Europe gone, this is a terrific place for players to get game experience and some pro film to show teams.
---