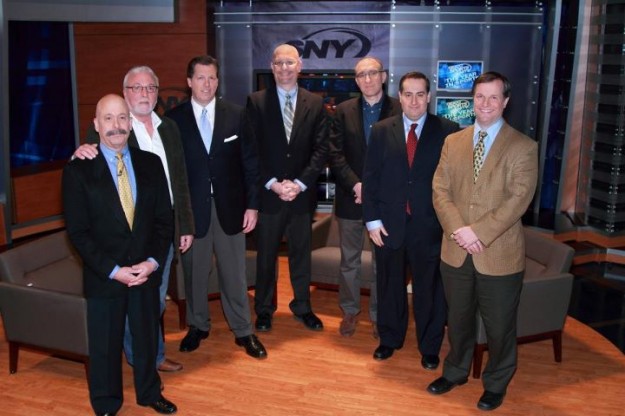 Should the Jets go after Peyton Manning if becomes a free agent? Absolutely. This one is a no-brainer. They would be foolish if they didn't.
"We will do always what's in the best interest of our organization," Rex Ryan said.
And what is in the best interest of the Jets organization is to sign Peyton Manning, if he becomes a free agent, which is almost a given.
There is no grey area here. They Jets really need to do this.
The chance to sign one of the top-five quarterbacks of all time, doesn't present itself very often, so when it does, you jump at it, especially when you are currently getting mediocre play at the quarterback position.
The Jets current starting quarterback threw three picks on check-downs in the Jets season finale in Miami. Maybe it was not all his fault, but it doesn't get much worse than that.
How will Mark Sanchez react? The Jets can't worry about? This constant obsession with Mark's feelings has been a mistake, and falls into the "coddling" category.
The Jets have paid Mark Sanchez a fortune over his first three years, money not in-line with his contributions.
So they shouldn't worry about his feelings. They have made him a very, very wealthy man.
It probably would be really good for Mark's maturation process to take a step back, and serve as a backup for a couple of years, to one of the NFL's all-time greats. He would learn a lot. And if Manning plays two or three years, Sanchez would still be very young when Peyton departs, and much better prepared to do the job.
Sanchez was thrust into the starting job before he was ready in 2009. His performance in Cortland, the summer he was handed the job, was underwhelming.
He didn't earn the job. Clearly the Jets had their minds made up before camp started that he was going to start from the get-go.
And they have made him untouchable as a starter, and no matter how bad he played in certain games, he was beyond reproach, with no chance to ever get pulled from a game.
Quite honestly, the kid needs a little comeuppance, a dose of reality. Sitting him behind Manning, for a year or two or three, wouldn't be the worst thing in the world.
Aside from his amazing talent, there is another big reason the Jets aren't shooting down a pursuit of Manning – follow the money.
They need him to help their cash flow.
As reported by Jets Confidential, Jets business VP's Matt Higgins and Thad Sheely left the organization because they were unhappy with the culture on the business side, created by Woody Johnson and Ira Axelrad. The owner and his right-hand man see a lot of empty club seats and luxury boxes, and they want them filled. To be quite honest, they were driving Higgins and Sheely crazy.
Obviously Woody and Ira want this team to win, but they also want it to generate more cash flow.
Who better to fill them the empty seats, and bring in more money than Manning, a tremendous box office draw?
Sanchez isn't going to push a lot of product right now. A big chunk of the Jets Nation has soured on him. B-Schotty or no B-Schotty, many fans aren't of the mindset right now to rush to box office to see Mark play. If Manning arrived, there would be a mad rush for tickets, kind of like Lin-Sanity.
What a media buzz it would create, much like Jeremy Lin. Reporters, like those above, would be writing about the Jets endlessly, putting them on the back page non-stop.
On the field, and off-the-field, the Jets have NO choice. They need to make a bee-line to Manning, if he becomes a free agent.
There should be no debate here, if Manning is healthy, of course.
(Premium will return on SUNDAY night by 8 pm.)
---