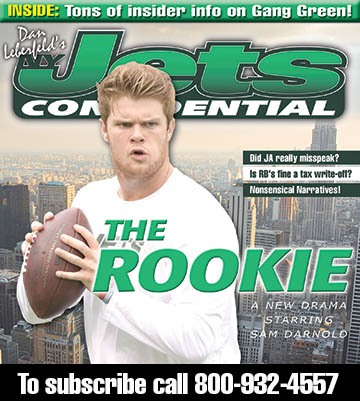 This needs to change – ASAP!
There are some things going on with the Jets' run defense that need fixing.
Even during their recent two-game winning streak, it wasn't great. Too many gaping holes.
I asked safety Jamal Adams, after the Jets' loss to Minnesota, what they must do to fix their run defense.
"Just do our jobs," Adams said.
I followed with a question asking for specifics on what needs to improve.
And he repeated, "Just do our jobs."
He certainly does his job. He had nine tackles against the Vikings, including three for losses.
You know you have a run defense problem when your top three tacklers are defensive backs – Darryl Roberts, Adams and Parry Nickerson. That was the case against Minnesota. This means a lot of plays are getting past the first line of defense. That's far from ideal.
Christopher Johnson should demand answers and changes.
************************************************************************************************
The new issue of Jets Confidential Magazine is out on news stands. So much stuff about Gang Green you won't read anywhere. To subscribe, click below, or call 1-800-932-4557 (M-F, 9-5). Jets Confidential Magazine – blunt, but fair.
---