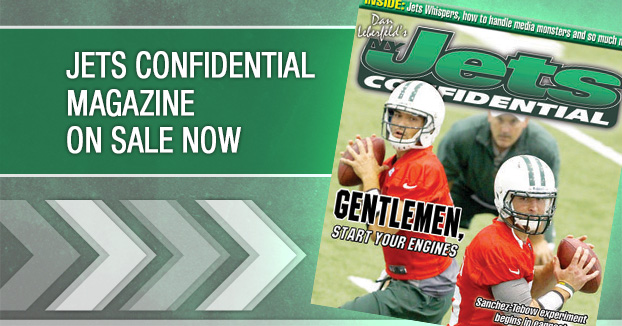 The Jets' August 21 practice at Hofstra University was cancelled by the school, and this probably makes people on both sides happy.
Hofstra offered this excuse for the cancellation – "With the start of the 2012-13 academic year and the hosting of the second Presidential Debate occurring soon, the timing of a number of campus maintenance projects within James M. Shuart Stadium and the campus community have had to be adjusted. Due to the altered maintenance schedule as a result of hosting the Presidential Debate, work on James M. Shuart Stadium will need to occur in the latter part of August. Therefore, due to the timing of this work, the University and the New York Jets agreed that the August 21 date would no longer be viable for the previously scheduled practice."
This is weak.
The Presidential Debate is October 16, almost two months after the date of this practice (which will now be held at MetLife Stadium), so spare us with using that as an excuse.
On top of it being two months later, it's also not being held in the stadium.
And Hofstra has known for quite some time they were getting a debate, so this wasn't just sprung upon them, forcing them to alter their schedule.
This whole thing is fishy.
It's pretty clear that Hofstra President Stuart Rabinowitz hates football. This is the guy who decided to drop football in 2009. The program was around for 72 years.
And Rabinowitz didn't shed a tear when the Jets left Hofstra in 2008 to train in Florham Park. They are using the land for a medical school.
So we know Rabinowitz isn't that into the Jets training there year round, or for just one day in August.
But why did I say there were people on both sides happy that the practice was cancelled?
While the Jets love their Long Island fans, do you really think their coaches and veteran players want to travel an hour and a half each way (with no traffic, which is a long shot) for one practice? I say veteran players, because most of the rookie and first-year players aren't the familiar with the area, so you could tell they are practicing in Montauk, and they wouldn't know the difference.
But the veteran Jets know its a major hike to get to Hofstra.
And remember last year, the Jets cancelled the Hofstra evening practice at 1 PM due to a bad weather forecast.
The weather in Hempstead turned out to be fine that evening.
But there was probably a conga line of Jets coaches and veteran players when the announcement was made last year. Let's be blunt – most of them want nothing to do with this. It's a pain in the butt.
So when Hofstra pulled plug today, there weren't a lot of tears shed on the football side in Florham Park.
Rabinowitz is probably doing a toast somewhere in Nassau County.
And after what Rabinowitz just pulled, the Jets should never step foot on that campus ever again.
They should hold their practice at Stony Brook, a place that would actually appreciate them.
[/private]
---