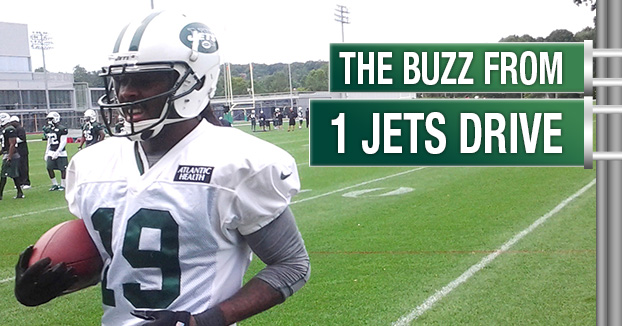 FLORHAM PARK, N.J. – In his first practice with the Jets, cornerback Aaron Berry showed some flashes of why he was so enticing to Rex Ryan.
Signed by the Jets on Monday, Berry is a physical cornerback who likes to jam the receiver at the line, a major reason why the Jets think he'll be a good fit in their scheme. He has good speed and showed good hands in drills. The Jets have him listed at 5'11 but that might be a bit generous . . .
Also newly signed, fullback Lex Hilliard is intriguing as a pickup. A fourth year player who spent his first three years with the Dolphins and then was cut twice this season by other teams, Hilliard showed some good explosion from his lower body in blocking drills.
His blocking is a point of pride he says, "I'm going to bring my lunch pail every day and work hard. That's what I pride myself on."
It was interesting to see Hilliard lining up at least once as a gunner on special teams . . .
After spending a whole week with the cornerbacks, Joe McKnight was back on the offensive side of the ball on Wednesday, working out with the running backs. As far as switching back to offense after seeing some limited snaps on defense on Sunday, McKnight seemed to take it in stride. "At this point, it doesn't really matter where I go, where they put me. I just want to play," McKnight said . . .
Running back Jonathan Grimes, picked up off the Texans practice squad last week, appears to have slipped to the No. 4 slot on the running back roster. Grimes is powerfully built but his footwork needs improving as he takes lots of small steps to run the same drills that McKnight and Bilal Powell do effortlessly . . .
Robert Malone is kicking solidly and his placement numbers inside the 20 are respectable. He consistently gets kicks over 45 yards in practice and his hang time numbers hover in the 4.5 to 4.7 second range. Granted Wednesday's practice was indoors and the numbers are off a hand-held stop watch but it's still a positive for a special teams unit that has been very average this year . . .
Nose tackle Damon Harrison is a feel good story for the Jets, coming out of an NAIA program to make the 53-man roster. Harrison is a much different player than rookie camp, having shed weight and great improved his footwork. He is faster, more nimble and more confident and could be a nice part of the defense moving forward.
Harrison told Jets Confidential that he is down to 331 pounds, having lost four more pounds this past month. The Jets want him to stay under 340 pounds but Harrison is eyeing the 320 pound mark as his ideal playing weight . . .
Rookie wide receiver Stephen Hill was limited to individual work today, although he did drills with the Jugs machine and did some running.
"I feel better, definitely better than last week, definitely," Hill said.
A decision likely won't be made until the day before the game on Hill's status for Monday night against the Texans . . .
There was no sign of tight end Dustin Keller at practice . . .
Newly signed Jason Hill worked with wide receivers coach Sanjay Lal during the special teams portion of practice . . .
With the loss of Santonio Holmes for the year, head coach Rex Ryan called out his receivers as needing to step up for the rest of the season. Two of the names mentioned were Clyde Gates and
Chas Schillens. It was Gates who was criticized in Week 3 for supposedly running a poor route that led to a Mark Sanchez interception on the game's opening drive but from practice, it's evident that his route running has gotten tighter and crisper . . .
Ryan was far more active and involved in the portion of media open to the practice, bouncing around between units but spending a good bulk of his time with the defensive line . . .
On Monday while making an appearance on cable news network Bloomberg, Jets owner Woody Johnson intimated that his support of Mitt Romney for president was more important than his NFL team.
On Wednesday, during an appearance on "Good Day New York," Suzanne Johnson, the wife of the Jets owner, did her best to clarify the comments that angered many Jets fans. She was on the Fox 5 show to promote the NFL's new line of women's clothing. "My husband, he has it in this order: country, family and faith and friends and he really thinks it's a good time to have Romney in the White House. We'll see," Mrs. Johnson said.
October 3, 2012
(Premium will return by 9:30 pm on Thursday.)
---