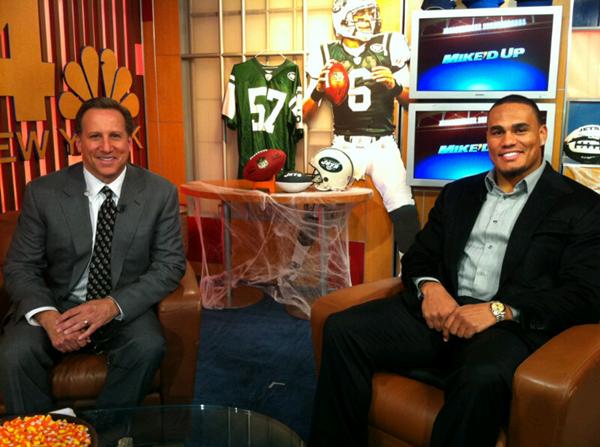 Dustin Keller did a number of interviews at the Super Bowl last week in his home state of Indiana. He made a lot of statements that caught our attention, and in Part II of our review of the myriad Jet quotes from Indy, we took a look at Keller's statements from last week, and evaluate them . . .
Before we get started, I want to make it clear, I'm not picking on Keller. If the Jets had 53 players with his attitude, they'd be a much better team.
But as a reporter, you can't just be a parakeet, and regurgitate quotes, and not lend any context to them.
Let's get started.
"I am so confident in Mark," Keller said. "He is, I think, one of the more consistent parts of our offense."
First of all, Keller and Sanchez are extremely close, so he is going to defend him to the nth degree, and that is admirable.
But if Sanchez is "one of the more consistent parts of our offense," that is quite an indictment of the Jets' offense.
One of the biggest problems Sanchez has, is he's wildly inconsistent. If he could even out his performances, he could take his game to the next level.
His 55.3 career completion percentage is a perfect example of his inconsistency. That isn't good enough in the NFL. Too many passes are hitting the ground to consistently sustain drives.
So, we have to politely disagree with Dustin. The word "consistent" and Sanchez don't go together right now. I'm not saying he can't get there, but right now, the consistency isn't there.
Keller feels that a big problem with the passing game last year was Sanchez, and some receivers, not being on the same page.
"[Sanchez] should be able to close his eyes and throw the ball and have it pretty close to where the guy is supposed to be," Keller said. "That's the type of trust you should have with your quarterback. I spent a lot of time with Mark in the offseason, and I feel like we had that little trust, that bond. He can trust me like that. I think there are a lot of other guys that need to spend that same time. If we can do that, we're going to be a tough team to stop."
There is no arguing this point – a quarterback and his targets need to be on the same page for a passing game to play on a high level. Just look at Eli Manning and his receiviers now – he's threading needles and hitting targets who are where they are supposed to be.
This takes a lot of work.
The lockout really hurt Sanchez and the chemistry of the Jets passing offense. Sanchez had no chance to work with Santonio Holmes from Year One to Year Two. They really needed this. Holmes was learning on the fly in Year One, and these two had a lot of things to iron out in the 2011 off-season, and it didn't happen.
Sanchez and Plaxico Burress had almost no time together before the 2011 season, with the lockout, and then the receiver missing a big chunk of training camp with an ankle problem.
Jeremy Kerley could have used some minicamps with Sanchez. Did you notice, he came on late in the year – it took a while for him to get comfortable.
But with all that being said, Keller talks about his comfort level with Sanchez, but there were too many examples this year where Dustin and Mark weren't on the same page.
Let's look at the Giants game.
Here is something I wrote in the Film Review of the Jets-Giants Game.
"The Giants went up 20-7 in the fourth quarter. On the second play of the Jets next possession, Sanchez threw over the deep middle to Keller, but there was one slight problem, Dustin was looking, and the pass fell incomplete. Like I said in one of the early sections, it's very surprising how out of sorts these two are, considering they are wrapping up their third year together, and also considering how close they are."
Here is something I wrote about the first quarter of the Jets-Giants game – "On the fourth play of the Jets' first possession, Sanchez ran a bootleg right, and threw to Keller, and it wasn't even close. Keller blamed the sun, but sun or no sun, this pass was way off the mark.
"Then the Jets second drive ended with a pass over the middle that hit Keller in the side of the helmet, and he wasn't expecting the ball."
So while Keller was probably more in sync with Sanchez than anyone else, it was surprising how many passing game mishaps there were between these two.
(Premium will return by 8 pm on Tuesday)
---