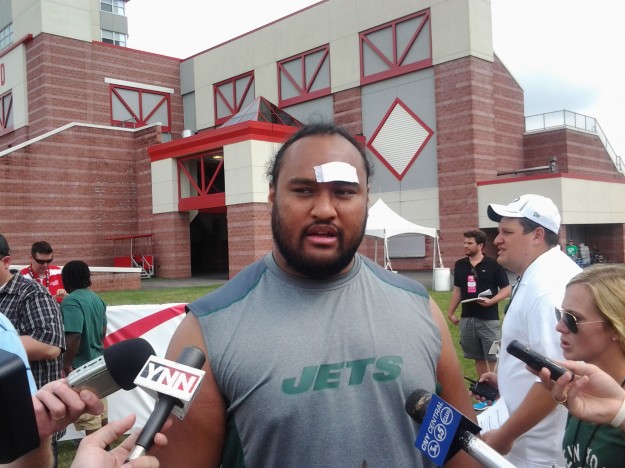 Cortland – It's time for another helping of Dan's Website Whispers from SUNY Cortland. A lot to talk about from the morning practice . . .
Rookie guard Robert Griffin is very honest about his situation. He's under no illusions. He's a project.
First off all, he was a college tackle, who has been moved to guard by the Jets.
Secondly, he might have played in the most simple college playbook in Division I at Baylor.
Some reports said they didn't have one.
But that isn't entirely the case.
"Baylor had a three page playbook, the Jets have 3,000 pages," Griffin said.
So this kid has a lot of work to do, so it's probably the practice squad or bust for him.
He was beat for a sack today by defensive lineman Matt Hardison . . .
As you know by now, Vlad Ducasse hurt his knee at practice today.
At first it looked really bad, but now it looks like he will be okay.
What happened was another offensive lineman threw a defensive lineman to the ground, and he landed on the back of Vlad's leg . . .
Wayne Hunter was rock solid today.
On the first run, in the 11 on 11 part of practice, Shonn Green had a nice scamper off right tackle, and a key block was by Hunter, who locked up Mo Wilkerson.
A few plays later, Hunter keyed another nice run off right tackle by Green, locking up Quinton Coples.
The ability is definitely there. He just needs to be way more consistent . . .
Scotty McKnight's surgical left knee seems to be bothering him a little. I saw him getting attention from trainer John Mellody before practice, and he was wearing a long, black medical sleeve on the leg during practice . . .
It's unfair to make too big of a deal about it, because the Jets are less than a week into camp, but Mark Sanchez was shaky today.
I will say two things in his defense.
First off, the Jets are in a new offense, and the players are still learning and getting the kinks out (that is why it's misguided for some reporters to compile QB stats in practice).
Secondly, the Jets' first team defense looked very good today, and that is who he was facing . . .
The starting offensive line looked pretty good today.
One of Sanchez's better plays today was hitting Santonio Holmes, on a short crossing route. Holmes had a chance to get all the way across the field, from the right to the left side, because the line provided the quarterback with a great deal of time to throw . . .
The offensive coaches really seem to like Royce Pollard. With a few injuries at receiver, the Hawaii rookie Royce Pollard had some reps with the starting unit today . . .
Prediction – Ellis Lankster will block a punt this year. He's very quick off the edge . . .
Kenrick Ellis was on the ground again, on a running play. He's got to do a better job of staying on his feet . . .
Maybe Antonio Allen was right that his role at South Carolina hurt him a little in the draft, because he played around the line so much, and couldn't show his coverage skills enough.
He had another pick today, in the end zone, on a pass intended for Stephen Hill.
Allen is definitely going to help the Jets . . .
LaRon Landry, who has arms the size of most people's legs, knocked Shonn Green to the ground (remember, there is no tackling), on a run up the middle.
He is a safety, who hits like a linebacker . . .
Kudos to Chaz Schilens for having the guts to fire back at Antonio Cromartie's insulting comment about being the team's second best wide receiver . . .
August 1, 2012
(Premium will return by 3 pm on Thursday.)
---