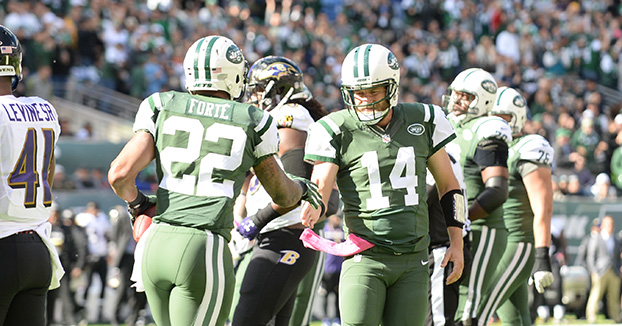 As you all know by now, Ryan Fitzpatrick lashed out following his relief appearance in the Jets' 24-16 win over Baltimore.
The quarterback was benched early last week. Who did it? That remains a mystery.
"The biggest thing in this game in order to last," Fitzpatrick said. "is to have a belief in yourself, because when the owner stops believing in you, and the GM stops believing in you and the coaches stop believing in you, sometimes all you have is yourself."
If I were Fitzpatrick, I'd be a little agitated also.
I'm not saying he played well during the Jets four-game losing streak. He did not. But he had plenty of company. Plenty of company – poor pass protection, anemic running game, pedestrian pass rush, suspect pass defense and underwhelming coaching. In other words, plenty of blame to go around.
And that losing streak came during the most brutal part of the Jets' schedule. Opponents included Arizona and Seattle, perhaps the NFL's top two defenses (as we saw last night). And then he was benched when the schedule was lightening up, with the injury-ravaged Baltimore Ravens, the winless Cleveland Browns, the inconsistent Miami Dolphins, and the mediocre Las Angeles Rams on tap.
Don't some of you think Fitzpatrick can/could fare just as well against these teams as Geno Smith?
So perhaps his anger is understandable.
*****To subscribe to the monthly Jets Confidential Magazine, click below.
---