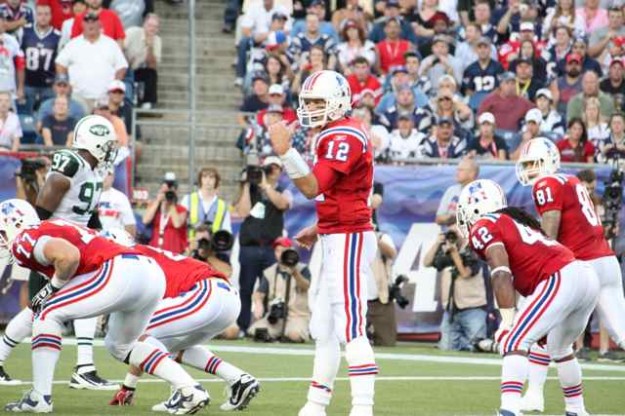 The New England Patriots' offense could be scary good this year.
They quietly went about their business this off-season, and added some weapons that should make an already strong offense even better.
Let's look at some of the work they did on offense.
They re-signed some important key players, like center Dan Koppen, wide receiver Deion Branch, wide receiver Wes Welker (one-year franchise tender) and wide receiver Mathew Slater (Jackie Slater's son).
And now on to some of the new additions – where do we start?
At wide receiver, they added Jabar Gaffney (Derrick Gaffney's son), Brandon Lloyd and Donte Stallworth.
This is a return engagement for Gaffney in New England. He was there from 2006-2008, and after stops in Denver and Washington, he's back. Brady is very comfortable with him.
Lloyd is a great fit for New England after learning Josh McDaniel's offense last year in St. Louis. This could be a major steal for the Patriots.
Lloyd is a major talent who has never played with a quarterback of this magnitude. This should be a great marriage.
For Stallworth, like Gaffney, this is a return engagement in Foxboro.
He was with the Pats in 2007, but was lured away with an enormous contract in Cleveland. He still has tremendous speed.
All three of these receivers are 31. Brady likes veteran receivers who have been around the block and know what they are doing. This trio should really help in New England.
The Patriots also added a receiver in the seventh round who will make himself tough to cut – Northwestern's Jeremy Ebert. He is a very good slot receiver who should be a nice fit for New England's offense with his smarts.
At tight end, New England returns tight ends Rob Gronkowski and Aaron Hernandez, and got a pleasant surprise at this position in the off-season, when the Giants tried to sneak Jake Ballard through waivers, and New England grabbed him. The Giants can complain all they want, but New England did nothing wrong claiming him. He blew his knee out in the Super Bowl, so could start the season on PUP.
The also added an underrated tight end from Denver in Daniel Fells. He made a catch last year against Miami that was one of the best grabs of the season.
They also added two really good fullbacks – Tony Fiammetta (Carolina) and Spencer Larsen (Denver). Aside from their blocking skills, they are factors in the passing game.
On the offensive line, they added former Raider and Seahawk Robert Gallery, who will challenge for a starting job at guard.
The Patriots did a nice job of improving their team this off-season. It wasn't splashy, but they got a lot of good value, and added players who will make them better.
It's going to be hard to beat this team in the AFC East.
If this team realizes their potential this year, the Jets best hope might be a wildcat birth in 2012.
July 17, 2012
(Premium will return by 9:30 pm on Wednesday. The new issue of Jets Confidential Magazine is in the mail, and will be on newsstands by the end of the week.)
---