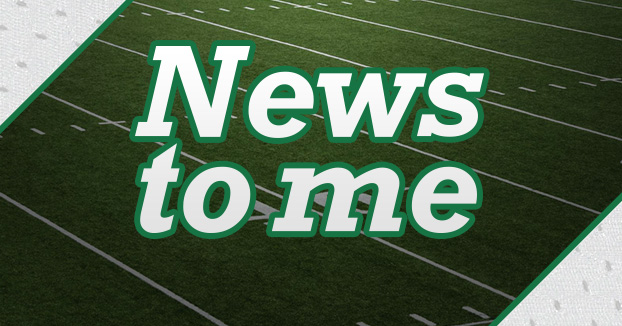 Madison – It's time for a heaping helping of Website Whispers from Jets country. A lot to get into, so let's get started . . .
Safety Jaiquawn Jarrett has a calf injury.
I saw him get pulled out of the stretching part of practice today, and he went over to the trainer's area.
He eventually came back out to practice field, and was in the starting lineup.
When I saw on the field, between plays, he was pushing off on the leg, flexing it, trying to get comfortable.
Keep an eye on this calf injury.
He's clearly not 100 percent.
Jarrett is a good example of how sometimes it takes prospects a few years for the light-bulb to come on, and the player truly emerges.
He was a second round pick of the Eagles in 2011, but didn't play well as a rookie, and was released after just one year.
He was out of the league in 2012, and the Jets signed him to a future's contract after that season.
He's been on the Jets roster the last two seasons.
I'm not putting him in Canton based on one game, but his performance against Pittsburgh, was one of the best games by a Jets safety in a long time.
And he's looked very good in practice.
He clearly gets it now. It took a bit, but he's now comfortable in his NFL safety skin.
So once again, here is an example of why you can't grade drafts the first year. So many of these players needs two or three years to truly get comfortable in the league.
Of course there are guys like Sheldon Richardson who "get it" fast, but most players don't.
And this is another example of why throwing some guys into the starting lineup, from the get-go, is misguided.
A lot of rookie aren't instant coffee . . .
People wondered who would start at cornerback with Darrin Walls returning from a calf injury.
From what I hear, the starters will be Walls and Marcus Williams.
This makes sense. Williams has played a little better than Phillip Adams, and Walls is better and more experienced than both of them.
Watching Adams in practices and games, his hips are a little stiff, so he struggles changing directions at times. He also has pedestrian speed, and that issue was in display on Martavis Bryant's 80-yard touchdown late in the Jets' win over Pittsburgh.
So the Jets' decision to go with the combo of Walls and Williams was clearly the way to go . . .
Here is a somewhat meaningless bit of information from you watching practice – Eric Decker has a great arm and he throws lefty. He was airing out 50-yard passes with little effort. These were not trick plays – it was just a time before practice where guys were messing around.
But you know what, the Jets should consider a trick play with Decker. What an arm! . . .
In the first Jets-Bills game, Gang Green's offensive line had significant protection issues. They had a big problem with "stunts" or "games" as coaches like to call them.
I asked Marty Mornhinweg about this yesterday.
"Their games, stunts, give everybody fits," Morhinweg said. "You have to have a plan for it and we certainly thought we had a good plan going in. We did have some trouble with it. I think we're just a little bit better. We're dealing with some of those things. So, we'll see."
Here are two examples of stunt/game issues from the first matchup
In the second quarter, DT Kyle Williams and DE Jerry Hughes stunted on the left side, and Williams got inside Oday Aboushi and hit Mike Vick who fumbled.
In the fourth quarter, Jairus Wynn sacked Vick. There was a stunt on the right side, and both Breno Giacomini and Willie Colon went to DT Corbin Bryant, doubling him, and this left Wynn unblocked.
The Jets need to clean this up if they hope to beat the Bills . . .
You could tell the Jets players are pumped about not having to go to Buffalo, a tough road venue, and getting a chance to play in Detroit, a neutral field, with no weather conditions. No road noise issues, no bad weather to deal with, nobody is complaining at One Jets Drive . . .
November 21, 2014
Premium will return by 11:00 pm on Monday from Ford Field.
---