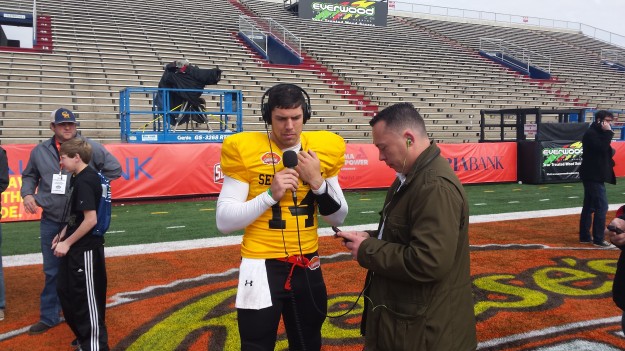 Florham Park – The Jets selected Baylor quarterback Bryce Petty from Baylor in the fourth round of the NFL Draft, moving up one spot to do so.
Petty comes from a one-read, spread offense, which some draft pundits said hurt his stock. He, however, said his ability to grasp the entire offense is indicative of his ability to do the same with a pro offense.
"When I was still in college, [the offense] was different, but it wasn't because I couldn't do a pro-style offense or a West Coast Offense or whatever you want to call it," Petty said on a conference call. "That's just what I was told to do. So I did it, and I did it to the best of my ability. So, being in another offense, being in another system, it's part of the game and I want to master this system just like I mastered what we did in college. Simplistic or not, you still had to go out there and do it."
In a pre-draft visit with the Jets, Petty said that he and offensive coordinator Chan Gailey had a film session, going over concepts of the Jets' offense. Petty said that there are some similar concepts in the new offense to the ones he used at Baylor.
Petty showed his early knowledge of the Jets personnel, saying he was looking forward to working with receivers Brandon Marshall, Eric Decker, Jeremy Kerley and second-round pick Devin Smith. He added that Gailey's offense is one "you can have fun with."
As the fifth quarterback selected, Petty had to wait a while to hear his name called, but said he won't let that affect him moving forward.
"I still feel very confident in my abilities and I think you have to as any competitor, especially a quarterback in the NFL," he said. "My confidence is never shaken."
---