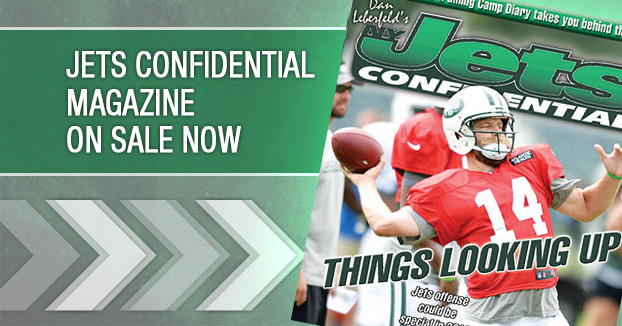 The New York Post headline was a little strong.
They ran a Geno Smith story yesterday with the headline – "Geno Smith is losing it at Jets camp."
I'm there everyday, and I don't think that's the case. He had several nice throws in Wednesday's practice, including a deep out to TE Jace Amaro.
Has he been perfect? Far from it, but he's done plenty of good things.
And he had a terrific back-shoulder TD pass to wide receiver Charone Peake in the Jets' first preseason game, a win over the Jacksonville Jaguars.
I don't think Smith is losing it at all.
I think he's just decided to tell the media to "get lost."
He's not speaking the press right now, and this fact is perhaps contributing to headlines of this nature.
****To subscribe to Jets Confidential Magazine click below. Our best issue of the year is coming out tomorrow, featuring, "The Training Camp Diary," LOADED with behind-the-scenes info on the Jets you won't read anywhere else.
---