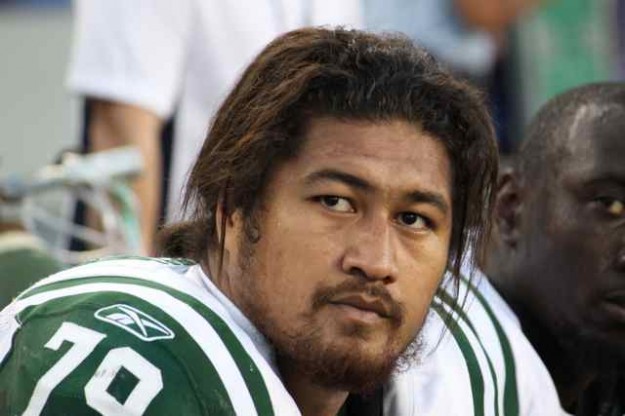 Aside from a few rookie issues, the defensive line did a solid job in Miami. Having Mike DeVito in the line-up (he's been in and out with knee issues), makes a big difference.
On the Dolphins first offensive play, a run attempting off right tackle by Daniel Thomas, DeVito stopped him for no gain.
A few plays later, Thomas ran for 13 yards to the right side, but this wasn't the fault of the starting defensive line. What happened on this play? Simple. Dolphins center Mike Pouncey pancaked Kenrick Ellis, and Thomas ran through the hole.
Why was Ellis in is so early? I understand he comes in to give players a blow, but four plays into the game? Maybe because he's from West Palm Beach, Rex wanted to get him some quality time.
Like we have said before, I think Ellis has outstanding potential, but he shouldn't have played as much as he did this year. He needs to get much stronger and work on his technique. He's on the ground too much, which is a cardinal sin for defensive lineman.
This upcoming off-season will be huge for Ellis, who should benefit from it because he's a very hard worker.
Let's move on to the Dolphins' second series. The first play was another example of outstanding run defense, like the first play of the initial series.
Sione Pouha (and Bart Scott) blew up a run attempt by Thomas off left tackle, collapsing that side of the line, and the two defenders combined to stop the rookie runner for a loss of two.
The very next play wasn't good. Right guard Vernon Carey locked up Pouha, and RB Steve Slaton ran for a gain of seven up the middle.
On the Dolphins' fourth possession, Slaton ran for a gain of 28 yards to the right side. One reason there was a big hole was Mo Wilkerson got knocked out of the way by the fullback – Lex Hilliard. This is inexcusable – a 3-4 end can get manhandled by a fullback. That can not happen. From what I hear from inside the building – one of the reason the Jets let up too many long runs this year were assignment errors by young defensive linemen.
The 13 and 28-yard runs early in this game are perfect examples.
The Jets went into this year relying on two rookie defensive lineman, Ellis and Wilkerson, to be a part of their defensive line rotation. While both have good potential, and Wilkerson had his moments this year, this plan was a mistake.
First of all, both player are extremely raw. Remember, not only were they rookies, but Wilkerson came out after his junior year, and Ellis went to 1-AA Hampton (huge jump up in competition).
Not bringing back Shaun Ellis for one more year was an error. This D-Line rotation had too many young players, and that is why the D-Line was so inconsistent.
In college, massive, athletic defensive linemen can generally dominate, because there are so many bad college offensive lines – loaded with guys who won't be playing on Sunday. In the NFL, you need to be very strong and technically sounds. Rookie defensive linemen usually struggle because they can't get away with just throwing guys around like they did in college.
We will have Part II of our defensive line review on Wednesday at 11 am.
---