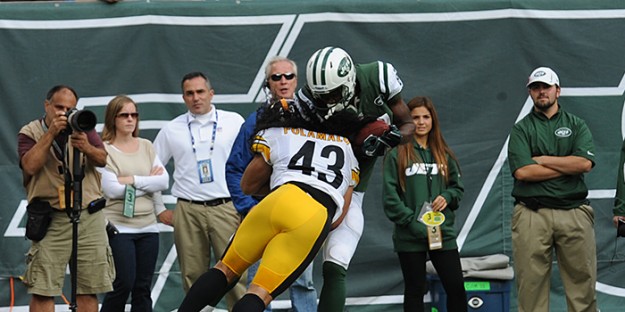 East Rutherford – Dan checks in from MetLife Stadium with a bunch of good stuff from the Jets-Pittsburgh Steelers game.
In the off-season, Rex challenged D'Brickashaw Ferguson to become more of a leader.
And after the Jets loss to Pittsburgh, he showed excellent leadership, standing in front of his locker, speaking loudly, and talking about what this team needs to do fix what happened today.
"If you're deep in the red zone and the ball gets turned over, that's going to be an issue. If there (are) penalties, that's going to be an issue. If there are missed assignments, that's going to be an issue," Ferguson said.
I'm not saying this is the best quote of all time, but I'm telling you, he was trying to take the bull by the horns, be a leader. He was basically saying, "This bleep needs to stop." . . .
Gary Myers had a very pointed question for Rex Ryan after the game.
"Throwing to a backup tight end (Konrad Reuland) into triple coverage, is that something you are going to have to live with starting a rookie quarterback?" Myers asked.
He is referring to that third quarter red zone pick by Geno Smith to safety Ryan Clark.
"We weren't on the same page," Reuland said after the game.
Reuland settled into the zone between the cornerback and safety, but Smith threw it like the tight end was continuing to go down the sideline.
"He floated the ball enough so that I had an opportunity to catch it," said Clark . . .
The Jets had little home field advantage today. When they needed loud noise from the crowd, while on defense, they didn't get it.
I'm not criticizing the Jets' fans in attendance.
There were so many Pittsburgh Steeler fans in the stadium today, it was a truly mixed crowd.
Steelers tight end Heath Miller had six catches today.
And after each catch you could clearly hear, "Heeaatthh," from the crowd . . .
The Jets' defense did enough to win this game, forcing four field goals.
David Harris quietly had a very good game with 10 tackles, a sack, a tackle for loss and one quarterback hit.
Just like against New England, the Jets' offense let the defense down.
This is getting old to some of the Jets' core defensive players.
And if this turnover machine continues to let down the defense, I think Rex is going to start losing some of the team . . .
Once again, the Jets' run defense was outstanding.
The Pittsburgh Steelers featured back today, Le'Veon Bell, ran 16 times for 34 yards for a 2.1 average.
The Jets run defense continues to do an outstanding job.
Generally when you can run the ball, and stop the run, that is a big part of the winning formula in the NFL.
The Jets can do both . . .
While Clyde Gates had his left arm in a sling after the game, Bilal Powell, who also suffered a shoulder injury, seemed fine.
It looks like Mike Goodson blew his left knee out playing defense after a Geno Smith pick . . .
Calvin Pace was asked about the Jets' inconsistency after the game.
"If you win one, lose one, win one, lose one, you end up 8-8," said Pace . . .
October 13, 2013
Premium will return by 9:30 pm on Monday
---