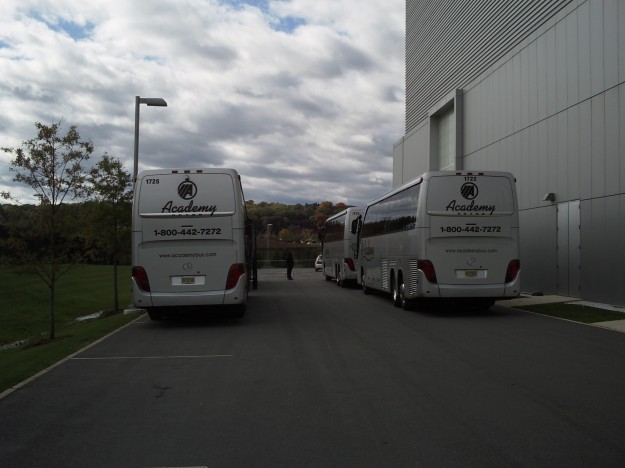 Dan checks in from Florham Park with a helping of Website Whispers from One Jets Drive. Just the good stuff. Don't miss it. Sign up now . . .
Brandon Moore has something going on with his right knee. It doesn't look serious, but it was heavily wrapped again on Friday . . .
So who is Cleveland going to start at quarterback this week? Eric Mangini isn't saying.
Jim Leonhard says the Jets have been preparing for Colt McCoy all week. Leonhard would be shocked if they didn't start McCoy, since he was the quarterback in back-to-back wins over New England and New Orleans.
The other option at quarterback this week seems to be Jake Delhomme. But the Jets didn't prepare two different game plans because it's not like the McCoy and Delhomme have such drastically different styles.
"It's not like Michael Vick and Kevin Kolb," Leonhard said of the two Philadelphia quarterbacks and their divergent styles . . .
How on earth on Cleveland starting receivers Brian Robiskie and Mo Massaquoi going to get open against Antonio Cromartie and Darrelle Revis? These are mismatches of biblical proportions.
The issue is in the slot with Chansi Stuckey or Josh Cribbs against the combo of Drew Coleman and Kyle Wilson. This has to scare the heck out of the Jets. Look what happened last week against Nate Burleson . . .
Marquice Cole (hamstring) said he thinks he should be able to come back for the Houston game. Drew Coleman will fill Cole's gunner role on special teams . . .
Vernon Gholston is a terrific person, and he has improved a little, but the amount of questions being asked about a backup defensive end the last two weeks is out of whack.
Gholston's locker was swamped by reporters on Thursday. One outlet had two reporters in the pack. How is a reserve defensive end a big story this week? I'm not trying to be disrespectful, but it's bizarre.
Whether Gholston realizes his potential is not very important story right now. The Jets are a Super Bowl contender. This is almost a non-story . . .
I get the sense that Dustin Keller is going to have a big game this week. None of the Cleveland linebackers are great in coverage, and they start a rookie safety (T.J. Ward). Keller is going to draw some mismatches, and with all the attention Santonio Holmes and Braylon Edwards are getting on the outside, I wouldn't be shocked at a big game for Keller this week . . .
People keep saying that Mangini has changed this year. They say he's more relaxed, personable and not as much of a tyrant.
I don't think he's changed at all. I think he's finally being his real self. In New York, he was trying to be Belichick to a "T."
He's finally stopping pretending to be somebody he's not. Also, Mike Holmgren has been a great influence on him. He's taken the good ideas of Belichick, the good ideas of Holmgren, and mixed them in with his own true personality, and the results have been pretty good . . .
Watching practice today it hit me how close this team is – the laughter, the camaraderie, there is a very good vibe. The karma is great around this team. They are the Anti-Dallas . . .
---